The Silencers *** (1966, Dean Martin, Stella Stevens, Victor Buono, Daliah Lavi, Cyd Charisse, Nancy Kovack) – Classic Movie Review 5015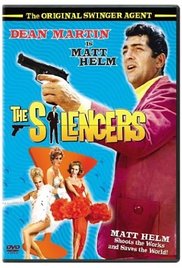 Director Phil Karlson's campy, infectiously amusing 1966 spy thriller is the first of four action-comedy movie outings for Dean Martin's incredibly popular Sixties secret agent, Matt Helm, based on the character created by Donald Hamilton.
Here Matt Helm is at the apex of a plot based on two of Hamilton's novels, The Silencers and Death of a Citizen. Director Karlson's spoof sees Martin facing an attempt by vast villain Tung-Tse (Victor Buono) to destroy an American atomic testing site in New Mexico with high hopes of causing widespread devastation and a Third World War.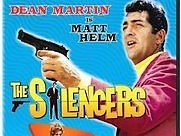 Stella Stevens, Daliah Lavi, Cyd Charisse and Nancy Kovack join in the daft fun, in a film that promoted Martin to the status of cheery, self-mocking sex symbol, without promoting itself too well, as Oscar Saul's easy-going screenplay lacks a great deal of wit.
However, Martin is extremely likeable, and so are his co-stars, who also include Robert Webber, James Gregory, Arthur O'Connell, Roger C Carmel, Beverly Adams, Richard Devon, David Bond, John Reach, Robert Phillips, John Willis and Frank Gerstle.
Burnett Guffey's cinematography and Elmer Bernstein's score are distinguished assets.
The end credit runs: 'Coming up next Matt Helm meets Lovey Kravezit in Murderers' Row.'
© Derek Winnert 2017 Classic Movie Review 5015
Check out more reviews on http://derekwinnert.com