The Silence of the Lambs ***** (1991, Jodie Foster, Anthony Hopkins, Scott Glenn, Ted Levine, Diane Baker, Anthony Heald, Frankie Faison) – Classic Movie Review 84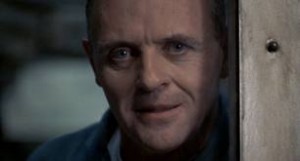 'Good evening, Clarice.'
'A census taker once tried to test me. I ate his liver with some fava beans and a nice Chianti.'
Director Jonathan Demme's gut-wrenching 1991 serial killer thriller mesmerises throughout thanks to Oscar-winning acting, direction and Ted Tally's fine screenplay faithfully adapted from Thomas Harris's nailbiting novel. It is very strong meat indeed, virtually raw, not at all for aficionados of bland or insipid fare. In all respects it's the opposite of a Hollywood blockbuster, but it became one anyway.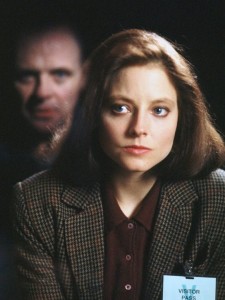 Jodie Foster stars as rookie FBI agent Clarice Starling who is sent on the orders of her boss Jack Crawford (Scott Glenn) to interrogate the cunning jailed psychopath Dr Hannibal 'The Cannibal' Lecter (Anthony Hopkins) for clues to uncover the identity of a ruthless elusive serial killer known as Buffalo Bill (Ted Levine). Several young woman have gone missing and their mutilated bodies have turned up all over the place. Now the daughter of a US Senator (Diane Baker) is missing and the FBI is galvanised into finding her before she's skinned alive.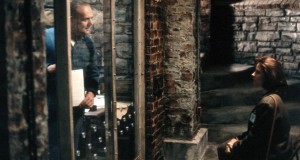 Watch this time and time again, and you'd still say the performances of Foster and Hopkins are brilliant. It entirely revolutionised their careers. In hugely long CVs, these are the roles they will always be remembered for. Foster has the star part, and Hopkins appears in what's hardly more than an extended cameo (does he have five scenes?) but he was right to take the gamble playing the role. There's just enough of it for him to scintillate and even dominate the film – yes even when he's not on screen.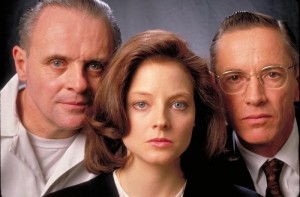 The film isn't even about Lecter. It's supposed to be about Starling and the capture of Buffalo Bill. But, with Hopkins, it seems to become almost entirely about him. He's hypnotic. With his staring directly at the camera, fast, slurping delivery and vocally accessing Truman Capote and Katharine Hepburn, it should be way OTT, but Hopkins hangs onto it, pushes it to the limit and triumphs in one of the movies' great tours-de-force. He creates one of cinema's greatest screen monsters.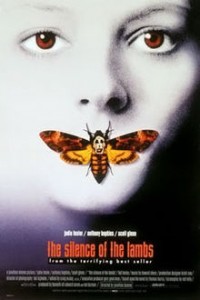 Brian Cox is good as the first Lecter incarnation in Manhunter (1986), but he wasn't able to make it memorable. He doesn't have really enough to do and, maybe, he just isn't as brilliant as Hopkins.
Not that the others actors aren't good. They are. They're highly effective and make their mark very strongly indeed, creating memorable screen characters too, some of them even without much screen time. As he should be, Levine is outstandingly creepy and scary as Jame Gumb, nearly as good as Hopkins, though not nearly as celebrated. Anthony Heald is pretty creepy too, in a different way, as the head jailer, Dr Frederick Chilton. Frankie Faison scores too, briefly, as Barney.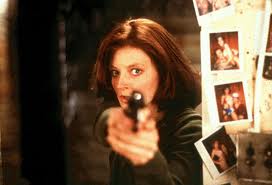 It kicked up huge controversies both from the right-wing and the liberals because of its sympathetic treatment of the deranged Lecter and homophobic portrayal of the trans-sexual serial killer Buffalo Bill. But of course those controversies were own goals, and just made more people want to see it and sold more tickets.
However you look at it, if you do, it remains a spellbinding, gruesomely entertaining horror movie, one of the very best of its kind. It may be, arguably, matched by the sequel and prequel but it isn't surpassed or replaced. And, once seen, it's never forgotten. That's a classic movie for you.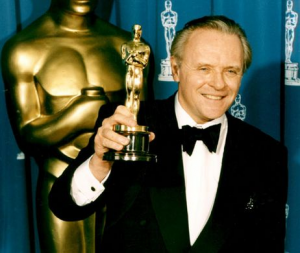 Despite being a horror movie, usually neglected by the Academy Award voters as not posh enough, it became only the third film to take the five main Oscars: best actor (Hopkins), actress (Foster), director, picture, adapted screenplay. (The others were It Happened One Night [1934] and One Flew Over the Cuckoo's Nest [1975].)
Ridley Scott's 2001 sequel Hannibal was followed by the prequel Red Dragon in 2002 and his roots were explored in Hannibal Rising in 2007. Mads Mikkelsen starred in the 2013 TV series Hannibal. Dan Butler (Bulldog in TV's Frasier) plays Roden here and also appears in Manhunter (the first film of Red Dragon) but in a different role. Frankie Faison is the only actor to appear in all four Hannibal films. Star cameos: directors Roger Corman and George A Romero play the FBI director and a Memphis agent, and Chris Isaak plays a SWAT commander.
Also in the cast are Lawrence A Bonney, Kasi Lemmons, Lawrence T Wrentz, Brooke Smith, Tracey Walter, Charles Napier, Cynthia Ettinger, Daniel von Bargen, and Harry Northup.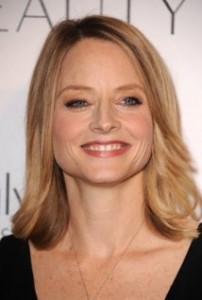 Jodie Foster married her girlfriend, photographer Alexandra Hedison, over the Easter weekend in April 2014.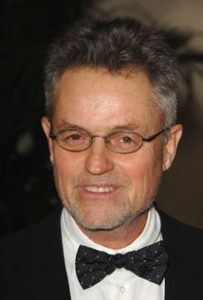 RIP Jonathan Demme, who died on April 26 2017, aged 73. He is also remembered for Melvin and Howard (1980), Stop Making Sense (1984), Something Wild (1986), Married to the Mob (1988), Philadelphia (1993), The Manchurian Candidate (2004) and Ricki and the Flash (2015).
© Derek Winnert 2013 Classic Movie Review 84
Check out more reviews on http://derekwinnert.com