The Sign of Four *** (1932, Arthur Wontner, Ian Hunter, Isla Bevan, Graham Soutten, Miles Malleson, Herbert Lomas) – Classic Movie Review 4479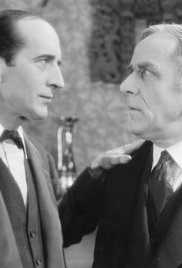 Director Graham Cutts's 1932 British mystery thriller again stars Arthur Wontner as a stirring Sherlock Holmes and Ian Hunter (replacing Ian Fleming) as a serviceable Dr Watson in a remake of a 1923 British silent movie with Eille Norwood as Holmes. The Sign of Four showcases Wontner's third Holmes performance after The Sleeping Cardinal, aka Sherlock Holmes' Finest Hour (1931) and The Missing Rembrandt (now a lost film).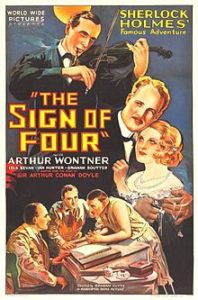 It is based on Sir Arthur Conan Doyle's second Holmes story, one of his best tales, about a one-legged man and a poisonous pygmy, a case that finds Watson unexpectedly falling for a young woman in peril called Mary Morstan (Isla Bevan), who is left alone with a missing father and a mysterious pearl, and menaced by an escaped killer seeking lost treasure. When Mary is kidnapped, Holmes and Watson must join the criminal underworld to try to find her.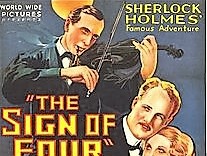 Also in the cast are Miles Malleson as Thaddeus Sholto, Herbert Lomas as Major Sholto, Roy Emerton as the Tattooed Man, Gilbert Davis as Atherly Jones, Graham Soutten as Jonathan Small, Edgar Norfolk, Clare Greet and Kynaston Reeves, with Ernest Sefton as Barrett, Margaret Yarde as Mrs Smith, Charles Farrell as funfair patron and Moore Marriott as Mordecai Smith.
Written by W P Lipscomb and made at Ealing Studios, it is also known as The Sign of Four: Sherlock Holmes' Greatest Case.
It was followed by The Triumph of Sherlock Holmes (1935) and the final film, Silver Blaze, in 1937.
It is remade for TV in 1983, with Ian Richardson donning the deerstalker as Sherlock Holmes and David Healy as Watson, and in 1987 for TV with Jeremy Brett and Edward Hardwicke, and in 2001 for TV with Matt Frewer and Kenneth Welsh.
© Derek Winnert 2016 Classic Movie Review 4479
Check out more reviews on http://derekwinnert.com