The Shooting Party **** (1985, James Mason, Edward Fox, Dorothy Tutin, John Gielgud, Gordon Jackson, Cheryl Campbell, Robert Hardy, Frank Windsor, Rupert Frazer, Judi Bowker) – Classic Movie Review 6278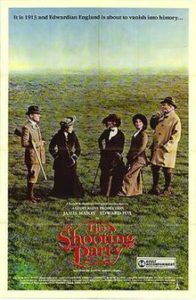 Edwardian barrister Lionel Stephens (Rupert Frazer) engages with renowned sportsman Lord Gilbert Hartlip (Edward Fox) in an escalating contest over who can shoot the most game in director Alan Bridges's rich and rewarding 1985 British film version of Isabel Colegate's 1980 novel about class, intrigue and conflict. Adapting the novel, Julian Bond provides an exceptionally polished and smooth screenplay.
In a superb final performance (released posthumously), James Mason plays Sir Randolph Nettleby, the graceful old values host of the weekend pheasant shooting party in the Derbyshire countryside where it all happens in 1913 as the Great War looms.
Meanwhile, the guests are busy romantically. (1) Stephens is courting the thick-headed English Lord Lilburn (Robert Hardy)'s guileless wife Lady Olivia (Judi Bowker) and trying his darnedest to impress her;
(2) Hartlip's free-thinking wife Lady Aline (Cheryl Campbell) is indiscreetly enjoying an open love affair with another guest, Sir Reuben Hergesheimer (Aharon Ipalé);
and (3) the Nettlebys' granddaughter Cicely (Rebecca Saire) is courted by a Hungarian count, Tibor Rakassyi (Joris Stuyck).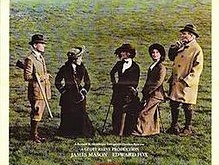 As you can imagine, there is a lot of tut-tutting and disapproval. Cicely's mother Ida (Sara Badel) doesn't like her allowing herself to be courted by a Hungarian. Sir Randolph disapproves of newer values  type Hartlip getting into a competition over who is the best shot.
This end of days meditation on the coming World War One war, the fate of the fading British aristocracy and the conditions of the local rural poor is a great showcase for the actors, with Edward Fox, Dorothy Tutin (as Nettleby's wife Minnie), John Gielgud (notable as Cornelius Cardew), Gordon Jackson, Cheryl Campbell, Robert Hardy and Frank Windsor also making a strong impression.
It was poignant to see immediately after the death of Mason. Nowadays, it provides a lovely memory of so many heritage actors now no longer with us.
Also in the cast are Rupert Frazer, Judi Bowker, Aharon Ipalé, Joris Stuyck, Rebecca Saire, Sarah Badel, John Carney, Ann Castle, Daniel Chatto, Mia Fothergill, Thomas Heathcoate, Barry Jackson, Richard Leech, Jay May and Deborah Miles.
It is shot by Fred Tammes, produced by Jeremy Saunders, Geoff Reeve and Peter Dolman, and scored by John Scott.
Astoundingly there were no Bafta awards, but the London Film Critics Circle voted James Mason Actor of the Year, though tied with Richard Farnsworth in The Grey Fox (1982).
Paul Scofield was badly hurt while playing Sir Randolph Nettleby in an accident on a horse-drawn shooting-brake, and had to be replaced by Mason. Fox had broken five ribs and a broken shoulder-blade. but Frazer escaped bruised and Hardy was unhurt.
Bridges also made The Hireling (1973), Out of Season (1975) and The Return of the Soldier (1982).
Colegate's novel won the 1981 W H Smith Literary Award.
© Derek Winnert 2017 Classic Movie Review 6278
Check out more reviews on http://derekwinnert.com