The She Beast [La Sorella di Satana] [Revenge of the Blood Beast] *** (1966, Barbara Steele, John Karlsen, Ian Ogilvy) – Classic Movie Review 4446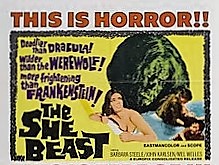 Briitsh writer-director Michael Reeves first worked in Italy, where he made his debut directing the micro-budget (£15,000) La Sorella di Satana (1966), remembered for its star appearance by horror icon Barbara Steele, who worked on the film for only one day, shooting for 18 hours for £1000. The film was shot in 21 days, with many members of the crew appearing in minor roles.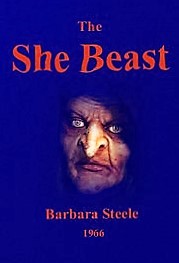 It is both a mix of horror story and dark comedy, satirising the Soviet Union in a plot that combines the witchcraft and Dracula legends, topped off with a comical final car chase shot by the second unit. In Reeves's story, a young woman's car plunges into a lake and her body is possessed by the avenging spirit of an 18th-century witch killed by the locals.
Barbara Steele stars as Veronica, John Karlsen is Count Von Helsing, Ian Ogilvy is Philip, Mel Welles is Ladislav Groper, Joe 'Flash' Riley is The She-beast Witch (Vardella), Ennio Antonelli is the truck driver, Lucretia Love is Groper's niece and Michael Reeves is the writer Michael Byron.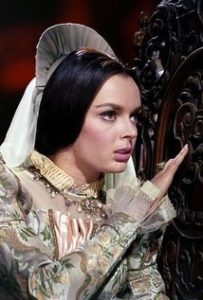 A restored widescreen version of the film was released on DVD in 2009 by Dark Sky Films with an audio commentary by producer Paul Maslansky and stars Ogilvy and Steele.
Steele refused to speak to producer Maslansky for many years after. Reeves and Ogilvy were school friends, and made short films together. Ogilvy also stars in Reeves's The Sorcerers (1967) and Witchfinder General (1968).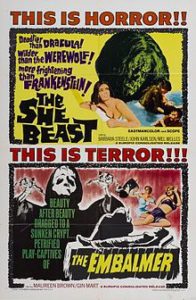 It was released as the top half of a double bill with The Embalmer.
Reeves made just two other films The Sorcerers (1967) and Witchfinder General [The Conqueror Worm] (1968) before his accidental death from barbiturates on February 11 1969 in London, aged only 25. He was to have directed The Oblong Box,which he was working on at the time of his death.
© Derek Winnert 2016 Classic Movie Review 4446
Check out more reviews on http://derekwinnert.com