The Shallows *** (2016, Blake Lively, Óscar Jaenada, Angelo Josue Lozano Corzo, Brett Cullen) – Classic Movie Review 5023
Blake Lively gives a very lively performance indeed as uber-resourceful surfer Nancy, who has somehow to fight back to survive when she is attacked by a great white shark and takes refuge on a rock just 200 yards from the safety of the shore.
Swimming in the wake of Jaws, director Jaume Collet-Serra's 2016 woman in jeopardy horror thriller and monster movie is commendably tense and taut. It says a lot that it is gripping and exciting throughout. Nancy's battle of wills with the shark is a nail-biter to the finish.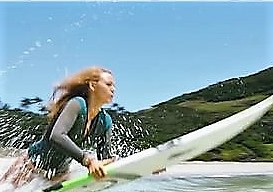 Performance-wise, it is all Blake Lively, a one-woman show, and she is really up for it. The film's one location focus is reminiscent of Hitchcock's Lifeboat. The Master might quite have liked The Shallows.
Of course don't expect anything too deep or original, and The Shallows is a lot of dark-toned fun.
© Derek Winnert 2017 Classic Movie Review 5023
Check out more reviews on http://derekwinnert.com