The Seven-Per-Cent Solution *** (1976, Nicol Williamson, Robert Duvall, Alan Arkin, Laurence Olivier) – Classic Movie Review 4917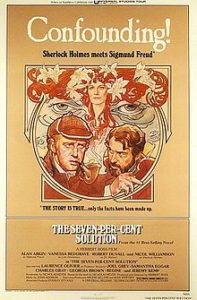 Producer-director Herbert Ross's 1976 comedy thriller is an awkwardly realised but enjoyable pastiche of a Sherlock Holmes adventure. An oddly cast Robert Duvall struggles a bit as a married Dr John H Watson, who sets off to Vienna to consult Sigmund Freud about Holmes' cocaine habit after Professor James Moriarty (Laurence Olivier) visits him to complain about being harassed by Holmes as a criminal mastermind
Nicol Williamson is only a touch less peculiarly cast as Holmes, who is tricked by his brother Mycroft (Charles Gray) into travelling to Vienna to be treated by Sigmund Freud (Alan Arkin) to recover from his cocaine addiction. Holmes soon sets out on a new crime busting caper to prevent a European war by unravelling a sinister kidnapping plot, while Freud uncovers a dark secret in Holmes's subconscious.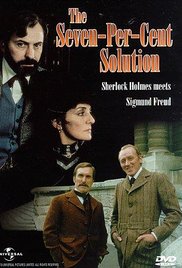 But, if Williamson and Duvall are uneasy, the rest of the cast are spot on: Alan Arkin is especially good, and so are Laurence Olivier as Moriarty, Charles Gray as Mycroft and Vanessa Redgrave as a kidnap victim, Lola Devereaux.
With set designs by Ken Adam, this is a plush and satisfying production with a sharp period sense and a lot of other friendly and welcome faces in the cast, including Joel Grey as Lowenstein, Samantha Eggar as Mary Watson, Jeremy Kemp as Baron Karl von Leinsdorf, Georgia Brown, Jill Townsend as Mrs Holmes and Regine.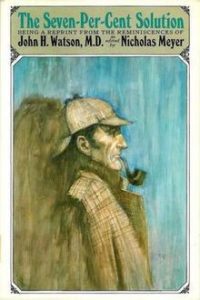 Nicholas Meyer provides the screenplay, adapting his own 1974 novel, supposedly based on a 'lost manuscript' of the late Dr John H Watson. Meyer followed it with The West End Horror (1976) and The Canary Trainer (1993), neither of which has been filmed.
It runs 113 minutes, is released by Universal, is shot by Oswald Morris and is scored by John Addison.
It was shot at Pinewood Studios with location work in the UK and Austria, including the Austrian National Library. Freud's tennis match/duel with Baron von Leinsdorf was filmed at the Queen's Club in West Kensington, London.
Meyer fought with Ross to be less faithful to his novel to make the film more cinematic. Meyer wanted Arkin to play Freud and Duvall to play Watson 'in revolt' against Nigel Bruce's film portrayals of Watson as a Colonel Blimp-type character.
Gray reprised his role as Mycroft Holmes in the Jeremy Brett TV series, while Kemp played Dr Grimesby Roylott in the same series. Townsend was Williamson's real-life wife.
Stephen Sondheim wrote 'The Madame's Song' for the movie. It was later sung as 'I Never Do Anything Twice' in the Side By Side By Sondheim stage show and is on the cast recording.
© Derek Winnert 2017 Classic Movie Review 4917
Check out more reviews on http://derekwinnert.com