The Servant ***** (1963, Dirk Bogarde, James Fox, Sarah Miles, Wendy Craig) – Classic Movie Review 23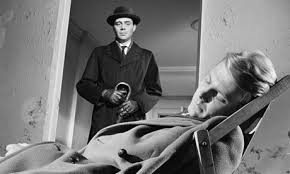 James Fox was 23 when he starred with Dirk Bogarde in this Sixties movie masterwork, lovingly spruced up, digitally restored and re-released for its 50th birthday in 2013. It is in perfect order, sound and vision.
The film says 'introducing James Fox', which means that it is someone's first film, but Fox had been working since he was 10 – he was in The Miniver Story in 1950 under his real name of William Fox and had a busy little career as a child actor.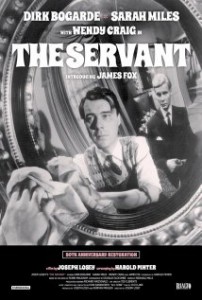 Looking at the Internet picture of him now in his 70s, he's still very handsome and distinguished looking. But back in 1963 he was dazzling. And his performance in The Servant is astonishing. Confident and subtle in the extreme, he gives the far, far more experienced, scene-stealing Bogarde a big fat run for his money. Some might say he's even better. Nothing Fox has done since in his long and prolific career has been anything like as good. For a long, long time, he's become a very competent jobbing star character actor. Good, solid, useful and dependable. But in The Servant, he's amazing.
Who or what's to praise for this? Well, I'd say first and foremost Harold Pinter's wonderfully nuanced screenplay, based on Robin Maugham's novel. The material's ideal for Pinter, who is slyly funny as well as penetrating and punchy, thumping it hard when other writers might have gone soft. This is Pinter at his best, with some of his finest dialogue.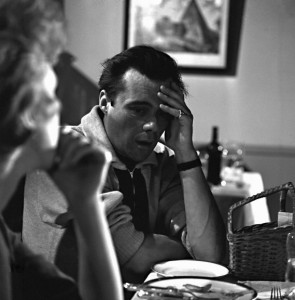 Then there's director Joseph Losey, a variable talent, but a very real one, enjoying one of his highspots in the most fertile period of his career. Losey's partnership with Bogarde was immensely fruitful, also producing Accident, King & Country and Modesty Blaise. Losey directs what could virtually by a stage play – it's mostly set in Fox's rather nice London house – in the most cinematic of ways, and the most stylish of ways.
It's in glorious black and white, by the way, which makes it look ultra-trendy now. The images are startling throughout. Most everything's filmed from low down, high up, sideways, into a mirror. Everything to make it look interesting and different, catch your eye. You'd think it would be irritating, but it's not. You just sit back and admire it, and relish it.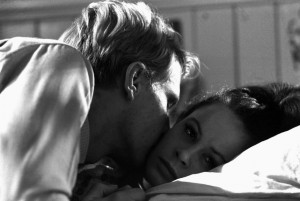 Of course it helps that Fox is perfectly cast as the aristocratic young Englishman Tony, who can't seem to be able to look after himself without taking on the help of a live-in servant, and whose interest in girls seems more a matter of narcissistic show than red-hot reality. He's definitely a public school product of the old school, cool and charismatic on the surface but essentially doomed and decadent. Pinter's fighting the class war.
Bogarde is less ideally cast as the weasely servant Barrett, so he has to do a lot more acting work. His northern working-class accent slips from time to time into Rank Charm School. Sometimes he relies on some of the tricks and mannerisms that once helped him to be famous. He's really stretching his acting muscles.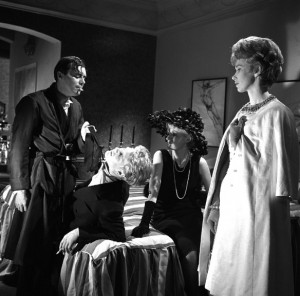 The effort shows a little, which is all the more noticeable because Fox seems to make no effort at all and still dazzle. Nevertheless, the 42-year-old Bogarde is extremely effective. He wasn't going to let a kid of 23 overshadow him, was he? He doesn't. He works up a powerful steam as the movie goes along, suggesting all manner of depravity and sheer Svengali evil, just as the character is written.
If Bogarde wasn't brilliant too, Fox couldn't shine, the film wouldn't work. And it so does. The Fox-Bogarde thing is a partnership. They seem fully to realise it and act in perfect tandem, each actor raising the other's game.
Their characters' relationship reminded me of the warring sisters in Whatever Happened to Baby Jane, made around the same time. Then two films I've never put together before started to seem to exist in a very similar world. Both are twisted melodramas with an emotionally sado-masochistic theme, that you know just aren't going to end well. Fox doesn't end up in a wheelchair, Blanche, but he is emotionally, spiritually and sexually crippled, a victim who's started off on top.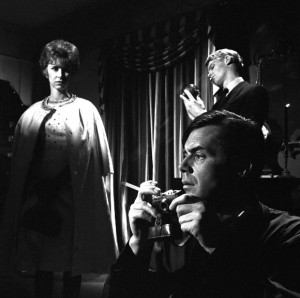 Then there's Wendy Craig and Sarah Miles. Craig is just brilliant in a serious role miles away from the sitcom parts that later made her famous. Her work here is a revelation, as she takes Bogarde on for control, indeed ownership of Fox. Chilling stuff, and Craig's up for it all the way. Miles probably has a weaker, less-nuanced role as the slutty girl first introduced as Bogarde's sister, who becomes a Fox's maid. She's very effective, but doesn't quite hit the heights of the other three actors.
There are no films around like The Servant today. It's worthwhile checking on how great British cinema was in its golden age of the early 60s. This is a gem and an icon of its era, a testament to great acting, writing, directing, cinematography and indeed everything that's great about the movies.
It's more or less a perfect film and a brilliant time capsule. It feels like opening an old cupboard drawer in a room you haven't visited for years and finding a perfectly preserved family photograph. Though, if this was my family, I'd be seriously worried!
© Derek Winnert 2013 Classic Movie Review 23
Check out more reviews on http://derekwinnert.com/