The Sentinel * (1977, Cristina Raines, Ava Gardner, Chris Sarandon) – Classic Movie Review 6033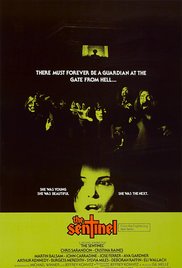 Co-writer/ director Michael Winner's thoroughly distasteful 1976 horror film is a bit of a ferocious farrago, a muddled mixture and a horror hodgepodge. Obviously, as it is Michael Winner, we are not expecting any subtlety.
It is based on the novel by Jeffrey Konvitz and stars Cristina Raines as a young, beautiful fashion model called Alison Parker, who finds herself renting a cheap Brooklyn Heights apartment in a block that turns out to be built over the gates of Hell. No wonder it is a low rental! You don't get much lower than hell, though it saves on the heating bills.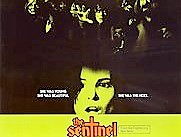 The good guys want her to take the place of an ailing blind-mute priest named Father Halliran (played by John Carradine) and guard the gate, while the demons of Hell want her to fail her job interview and commit suicide.
Winner assembles a dream cast of the time, but the tremendous work of both the newcomers and old-timers is largely is squandered battling in bizarre cameos.
The controversial climax is deeply worrying with Winner mixing actors in makeup (effectively designed by Dick Smith) with genuinely deformed people in the manner of Freaks, to gratuitous effect.
It is Tom Berenger's debut. Also in the cast are Chris Sarandon, Martin Balsam, José Ferrer, Ava Gardner, Arthur Kennedy, Burgess Meredith, Sylvia Miles, Deborah Raffin, Eli Wallach, Jerry Orbach, Jeff Goldblum, Christopher Walken, Beverly D'Angelo, Hank Garrett and William Hickey.
It is released by Universal, written by Winner and Jeffrey Konvitz, shot by Dick Kratina, produced by Jeffrey Konvitz and scored by Gil Melle.
© Derek Winnert 2017 Classic Movie Review 6033
Check out more reviews on http://derekwinnert.com