The Selfish Giant **** (2013, Conner Chapman, Shaun Thomas, Sean Gilder) – Movie Review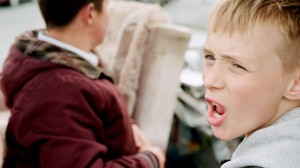 Hailed as one of 2013's best British films, this is a bleak and depressing Brit social realist movie, set around the desolate Bradford outskirts. This is a god-forsaken place, where appallingly ugly, semi-declined housing estates back on to fields whose potential beauty is destroyed by huge, ghastly cooling towers and electricity pylons.
This commendable film starts out like Kes, but somehow you know that here something really bad is going to happen this time.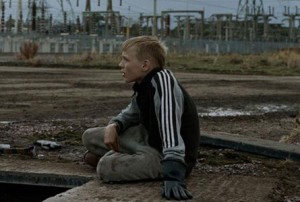 Writer-director Clio Barnard somehow makes this compelling, mostly by focusing on the appealing, naturalistic performances of Conner Chapman and Shaun Thomas as the teenage heroes Arbor and Swifty. They illegally race ponies and have a business as copper thieves trying to make a living by stealing and selling on the stuff to exploitative adults. One in particular, scrap dealer Kitten (Sean Gilder), exploits them cynically.
The enterprising boys are grown up and adult in many ways but they are not old enough to recognise understand their own naivete and inexperience in the ways of the world. Despite all their canny ways, they are no match for the nasty adults.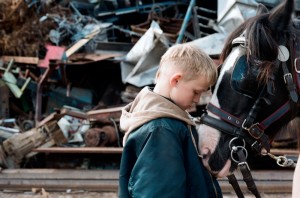 Barnard poetically captures the stark mood and rundown northern atmosphere perfectly and quite beautifully. Supposedly inspired by Oscar Wilde's The Selfish Giant, the film is a potent art work, with lots of interest and a heart-wrenching story but very little entertainment quota.
It is a truthful-seeming report on the state of Britain today, and it made me want to pack my bags and head abroad.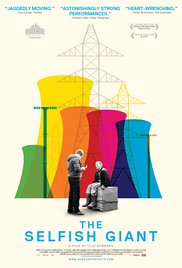 The Selfish Giant is brave drama for British screens, but I'm afraid it's another hard-to-watch, wrist-slasher of a film. The film doesn't offer any hope or any solutions. But the boys make it bearable.
It was an official selection at the Cannes Film Festival. The London Film Critics voted it their 2014 British Film of the Year and Chapman the Young British Performer of the Year. The two boys jointly won Best British Newcomer at the London Film Festival 2013.
© Derek Winnert 2013 Movie Review
Check out more reviews on http://derekwinnert.com