The Secret Life of Pets *** (2016, voices of Louis C K, Jenny Slate, Kevin Hart, Ellie Kemper, Eric Stonestreet, Albert Brooks) – Movie Review
Directors Chris Renaud and Yarrow Cheney's Illumination Entertainment (Despicable Me) studio animated feature begins brilliantly by imagining what the animals a Manhattan apartment building get up to when their owners leave them alone go to work. They speak English but the humans just hear barking. This secret life is a secret well worth sharing.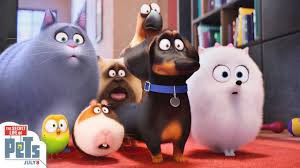 Poodle Leonard switches the stereo to hard rock, a white Pomeranian loves daytime soaps, and a sausage dog gives himself a full body rub on the blender. But the main character is adorable little pooch Max (voices of Louis C K) who waits loyally by the front door for his owner to come home again.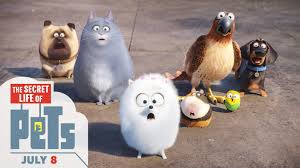 It is a one-joke, one-idea, one-off kind of thing. This would make a superb, Oscar-winning ten-minute short. It could stretch to make a great 30-minute movie, but it's a real hard stretch to spin it out to 90 minutes. Nevertheless, they try, and try hard, with some success.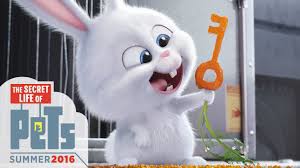 And so the story kicks in a Max's life as a favourite pet is turned upside down when his owner brings home a huge, slobbery mongrel rescue dog named Duke (voice of Eric Stonestreet).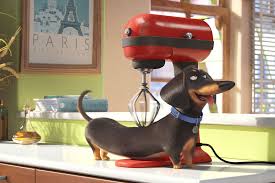 Max's owner can't hear his appeals to dump Duke so the two are left to fight it out at home but eventually have to put their quarrels behind when they find out a white bunny named Snowball (voice of annoying Kevin Hart again) is building an army of lost pets determined to take revenge.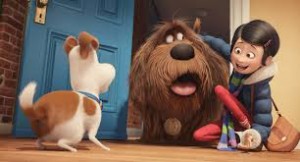 This is conventional, over-familiar, unsurprising stuff, as the animals try to avoid their foes and the city's thoughtless animal catchers. The story even gets repetitive as it tries too fill the required screen time, making an hour seem quite enough.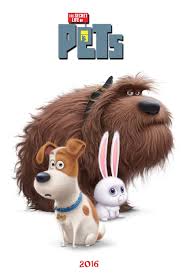 Nevertheless, there are are enough great characters, good ideas and big laughs to make it worth while. I particularly liked the vulture Tiberius (voice of Albert Brooks). He manages too be so not cuddly, menacing and appealing at the same time.
Talking of menacing, it might be scary for very young kids, despite its U certificate. One of the good things about the movie is it's not cosy, it's quirky and peculiar.
Word of warning: try to avoid the trailer that has all the movie's best and funniest bits.
A one-joke, one-idea, one-off kind of thing it may be, but a sequel is greenlit for release on July 13 2018 after the first one grossed $300 million in North America.
© Derek Winnert 2016 Movie Review
Check out more reviews on http://derekwinnert.com