The Second Best Exotic Marigold Hotel *** (2015, Maggie Smith, Dev Patel, Richard Gere, Bill Nighy, Judi Dench) – Movie Review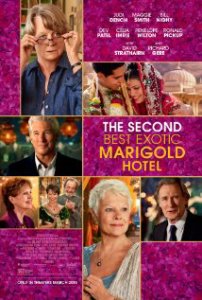 In an entertaining odd-couple double act, Dev Patel and Maggie Smith have the best of what's going in The Second Best Exotic Marigold Hotel, as their characters Sonny Kapoor and Muriel Donnelly pursue their expansionist dreams of finding finance for the opening of a second hotel.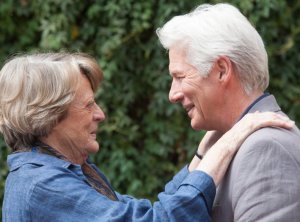 They start off on Route 66 together but are soon back in India, where Judi Dench's Evelyn Greenslade and Bill Nighy's Douglas Ainslie are pursuing a very slow-moving romance, Ronald Pickup's foolishly roving husband Norman Cousins is having troubles with his straying wife (Diana Hardcastle), and Celia Imrie's sex-mad Madge Hardcastle is pursing everything on two legs.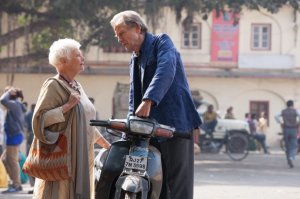 Suddenly, though, there are two new arrivals at the Marigold, silver fox Guy (Richard Gere) and Tamsin Greig's Lavinia. But there's only one free room, and Sonny insists on giving it to Guy because his nose tells him he's the hotel inspector. Everyone seems to think old guy Gere is still tasty, but he only has eyes for Sonny's mum Mrs Kapoor (Lillete Dubey). Meanwhile Sonny is about to get married to the love of his life, Sunaina (Tina Desai), but she seems to be spending far too much time with the hunky Kushal (Shazad Latif).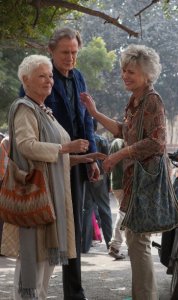 The movie is run by posh director John Madden (who also directed the £100 million earner The Best Exotic Marigold Hotel in 2012) as slackly and amiably as the hotel is run in the story. The real problem, though, is Ol Parker's script which is full of loose ends, unresolved scenes and characters, clichés, duff lines and general air of far too much amiability. It's only a movie, and an escapist romantic comedy drama, but it kind of needs a reality check.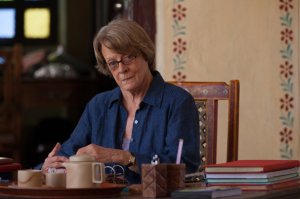 Smith has all the best lines, and is very funny with her acid, throwaway quips but, charming though they are, Dench and Nighy need stronger stuff than their soppy, frankly unbelievable romance. Ditto Pickup and Hardcastle and their unbelievable marriage relationship. However, Patel is classy, even when he's asked to act geeky and dorky, and he dances like an angel in the finale. He's got the main, central role, and he should have top star billing. Tina Desai is lovely and charming when the script lets her be as his love interest and ditto Lillete Dubey as Gere's love interest.
© Derek Winnert 2015 Movie Review
Check out more reviews on http://derekwinnert.com/