The Sea Hawk ***** (1940, Errol Flynn, Brenda Marshall, Claude Rains, Henry Daniell, Donald Crisp, Alan Hale) – Classic Movie Review 3860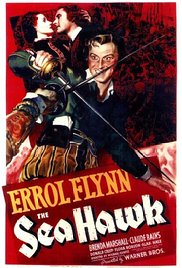 Director Michael Curtiz's 1940 adventure is a thrilling vintage sea-borne swashbuckler based on the novel by Rafael Sabatini.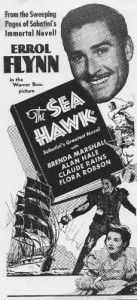 Errol Flynn is on his finest swashbuckling form as the English buccaneer sea captain, Geoffrey Thorpe, whom Queen Elizabeth I (Flora Robson) commands to wreak havoc on the enemy Spanish fleet.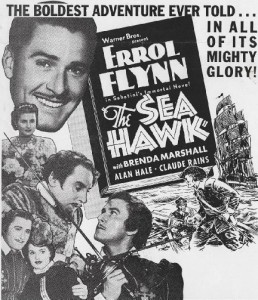 Jack L Warner, Hal B Wallis and Henry Blanke's opulent Warner Bros production is gorgeously lensed by cinematographer Sol Polito in black and white, although you do miss the Technicolor photography that you would expect from a big-budget epic of this era.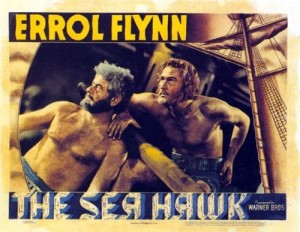 It is also beautifully designed by Anton Grot and the movie is excitingly directed by Curtiz. The other main assets are Henry Daniell as a splendid villain, Lord Wolfingham, Claude Rains as Don José Alvarez de Cordoba, Donald Crisp as Sir John Burleson, Alan Hale as Carl Pitt, Una O'Connor as Miss Latham, James Stephenson as Abbott and Gilbert Roland as Captain Lopez, as well as some white-knuckle action and a stupendous, tremendously stirring Erich Wolfgang Korngold music score.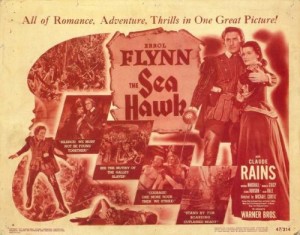 It is a remake of a once famous silent film of 1924, The Sea Hawk, with Milton Sills the English buccaneer sea captain, Sir Oliver Tressilian, Enid Bennett, Lloyd Hughes, Wallace MacDonald, Marc McDermott and Wallace Beery as the pirate captain, Jasper Leigh.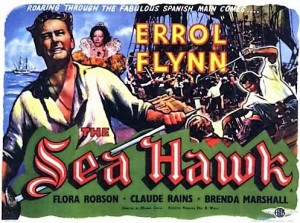 Also in the cast are William Lundigan, J M Kerrigan, Julian Mitchell, David Bruce, Frank Wilcox, Herbert Anderson, Clifford Brooks, Charles Irvin, Clyde Cook, Edgar Buchanan, Ellis Irving, Montagu Love, Francis McDonald, Pedro de Cordoba, Ian Keith, Jack La Rue, Fritz Leiber, Halliwell Hobbes, Alec Craig, Frank Lackteen, Victor Varconi, Lester Matthews, Leonard Mudie, Robert Warwick, Harry Cording, Nestor Paiva, Frederic Worlock, David Thursby, Michael Harvey, Gerald Mohr, Leyland Hodgson, Colin Kenny, Crauford Kent, Elizabeth Sifton and Mary Anderson.
The film was colorized in 1986 and released on VHS, but only the black-and-white versions, both edited (109 minutes) and restored/uncut (127 minutes), have been released on DVD.
© Derek Winnert 2016 Classic Movie Review 3860
Check out more reviews on http://derekwinnert.com