Maze Runner: The Scorch Trials *** (2015, Dylan O'Brien, Kaya Scodelario, Thomas Brodie-Sangster, Ki Hong Lee, Aidan Gillen, Patricia Clarkson) – Movie Review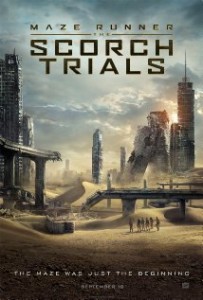 In part two of The Maze Runner saga, the survivors of the Maze face a new impossible odds and obstacles on a desolate, post-apocalypse urban landscape as they are relentlessly pursued by Janson (Aidan Gillen), evil leader of the mysterious and powerful organisation known as WCKD. The young Gladers journey to the Scorch, where they team up with resistance fighters to take on WCKD and try to uncover its secrets.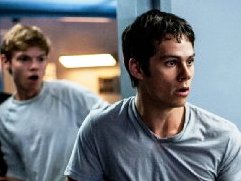 This time they do a good job of making this youth-oriented fantasy convincing. Dylan O'Brien (Thomas), Kaya Scodelario (Teresa), Thomas Brodie-Sangster (Newt), Ki Hong Lee (Minho) resume their roles, though only O'Brien has much of a part, but he's a little star on the teen appeal, acting and running fronts. The combination of being cute and a good actor is working out well for him. He is the cement that holds a rather meandering, slightly bewildering storyline together.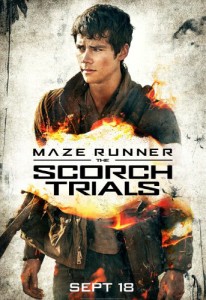 T S Nowlin returns as writer of the screenplay, adapting James Dashner's young persons' novel and Wes Ball returns as director, so it's very much business as before. Part two is just quite a bit longer (a tiny bit too long at 131 minutes) and slicker and faster. It keeps going, keeps pacy and keeps involving, despite some baffling side alleys it seems to want to take.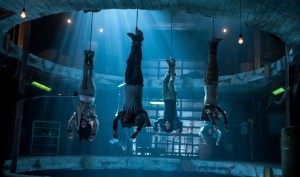 The first one was all set-up (Maze), talking and a bit of running around (Runner). This one is shorter set-up, less talking and much more running around. The running around proves quite exciting this time in the dystopian, bombed-out, post-apocalypse concrete world, and the movie is quite edgy and adult with some strongish violence, killing and extended sequences of action, giving the movie some welcome darkness and guts.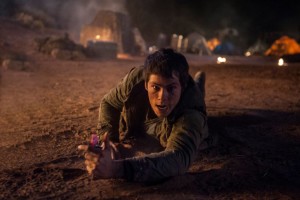 The strongly cast adult actors generally have little to do, nothing interesting anyway, but do it OK: Patricia Clarkson as the evil leader's evil leader Ava Paige, Giancarlo Esposito as Jorge, Barry Pepper as Vince, Lili Taylor as Mary Cooper and Rosa Salazar as Brenda.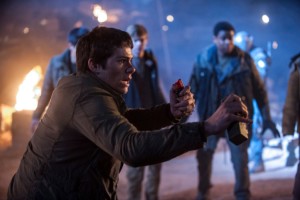 As it starts with Thomas dreaming of the past, a full recap of the first film would have been really helpful. Plenty of time has gone by to forget the first one, so you might want to check it out again before part two, enjoyment of which depends on having seen it. What is unforgettable is that Will Poulter was one of the stars in The Maze Runner and he is much missed here.
And it's a shame that it ends with a cliffhanger, which seems both irritating and lazy.

Dylan O'Brien suffered multiple broken bones when he was accidentally run over while filming a scene for The Maze Runner: Death Cure involving a car on 18 March 2016 in Vancouver, Canada. Production on the film was shut down while he recovers. Fox has moved back its release for The Maze Runner: The Death Cure by nearly a year to January 12 2018. By then, a full recap of The Scorch Trials will definitely be needed.
http://derekwinnert.com/the-maze-runner-2014-dylan-obrien-kaya-scodelario-will-poulter/
© Derek Winnert 2015 Movie Review
Check out more reviews on http://derekwinnert.com