The Scent of Green Papaya [Mùi du du xanh] [L'Odeur de la Papaye Verte] **** (1993, Tran Nu Yên-Khê, Man San Lu, Thi Loc Truong) – Classic Movie Review 5938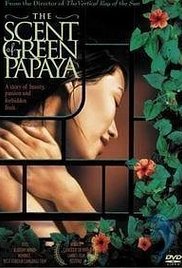 Writer-director Tran Anh Hung's spiritual 1993 Franco-Vietnamese drama about the life of a young girl is the 1994 Oscar-nominated Best Foreign Language Film picture.
It is a pure and subtle gem that follows the fortunes of a Vietnam peasant girl called Mui in the Fifties and Sixties, first engaged as a 10-year-old by a bourgeois Saigon family of shaky finances, and then as a 20-year-old young woman (Trân Nu Yên-Khê) by a foppish young composer/ pianist she loves.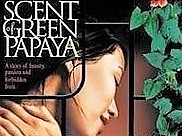 It also stars Man San Lu as orphaned Mui aged 10, who is taken on in a house as a new servant, Thi Loc Truong as the mother and Anh Hoa Nguyen as the old Ti.
The film recalls the vanished way of French Vietnamese life and details female servitude of the period, while developing in a series of domestic dramas.
Tran Anh Hung shoots elegantly and gracefully in the understated style of Japanese master Yasujirô Ozu (1903–1963), entirely on sets in France, despite the setting. The studio is Studios de Bry – 2 avenue de l'Europe, Bry-sur-Marne, Val-de-Marne, France.
It is also the winner of the 1993 Cannes Camera d'Or [Golden Camera] for best first film and the 1994 César for Best First Work [Meilleure première oeuvre] for Tran Anh Hung, who also won the Sutherland Trophy at the British Film Institute Awards 1994.
It is shot by Benoit Delhomme, produced by Christophe Rossignon and scored by Tiet Ton-That.
Tran Anh Hung is married to Tran Nu Yên-Khê.
Tran Anh Hung followed it with Cyclo (1995).
© Derek Winnert 2017 Classic Movie Review 5938
Check out more reviews on http://derekwinnert.com