The Saint of Fort Washington *** (1993, Matt Dillon, Danny Glover, Rick Aviles, Nina Siemaszko, Ving Rhames, Joe Seneca) – Classic Movie Review 5134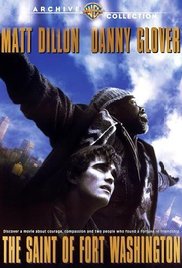 Matt Dillon plays an emotionally disturbed, probably schizophrenic young man who is made homeless, then meets up with down-on-his-luck Vietnam vet Danny Glover at New York's Fort Washington men's homeless shelter, a harrowing place wracked with its own organised crime.
The resourceful Glover character befriends the kindly lad and educates him in survival on the streets in a friendship that offers hope in a bleak existence. Quality acting from the two stars, Lyle Kessler's thoughtful and intelligent screenplay, and careful handling by director Tim Hunter, shooting on New York street locations, give this involving film an unusual edge.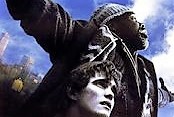 The vast and forbidding real location of the title shelter is used for maximum impact.
The script takes us sharply into the stalled lives of New York's homeless in what seems a truthful portrait with welcome flashes of humour and only a few fanciful or poetic touches. It is a slight pity about the mawkish ending, which mars the film, but it is still a very worthwhile movie.
Also in the cast are Rick Aviles, Nina Siemaszko, Ving Rhames, Joe Seneca, Harry Ellington, Ralph Hughes and Adam Trese.
© Derek Winnert 2017 Classic Movie Review 5134
Check out more reviews on http://derekwinnert.com