The Running Man *** (1987, Arnold Schwarzenegger, Maria Conchita Alonso, Yaphet Kotto, Jim Brown) – Classic Movie Review 6249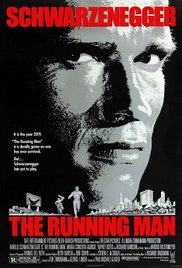 Can you believe that 13 November 2017 is already the 30th anniversary of the 1980s iconic sci-fi and fantasy film The Running Man?
Stephen King's novel provides director Paul Michael Glaser with the basis for his efficient if uninspired 1987 sci-fi action thriller movie vehicle for Arnold Schwarzenegger as a framed convicted killer who becomes one of the contestants in a sick and sadistic television game show. The Running Man, hosted by Damon Killian (Richard Dawson), is the most popular show on TV.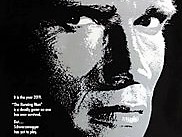 The wrongly convicted Ben Richards (Schwarzenegger) is pursued by trained hitmen across a devastated Los Angeles in the year 2019 as he tries to survive the TV show's public execution gauntlet. This is a Most Dangerous Game that nobody is expected to survive, but of course Schwarzenegger has yet to play, and he seems like the ultimate survivor.
As adapted in the screenplay by Steven E de Souza, Stephen King's novel (writing as Richard Bachman), with its echoes of The Most Dangerous Game, provides an effective framework for Schwarzenegger's usual, familiar tough-guy act, which he gives a good workout.
And director Glaser expertly orchestrates the 1987 state-of-the-art special effects, nasty violence and unpleasant humour. It also stars Maria Conchita Alonso, Yaphet Kotto and Jim Brown as Fireball.
Also in the cast are Jesse Ventura, Erland Van Lidth, Marvin J McIntyre, Mick Fleetwood, Dweezil Zappa, Gus Rethwisch, Professor Toru Tanaka, Karen Leigh Hopkins, Sven-Ole Thorsen and Edward [Eddie] Bunker.
It is shot by Thomas Del Ruth, produced by Tim Zinnemann and George Linder, scored by Harold Faltermeyer, and set designed by Jack T Collis.
Its release was moved from July 1987 to avoid competition with Schwarzenegger's other summer film, Predator (1987).
© Derek Winnert 2017 Classic Movie Review 6249
Check out more reviews on http://derekwinnert.com