The Running Man *** (1963, Laurence Harvey, Lee Remick, Alan Bates) – Classic Movie Review 10,314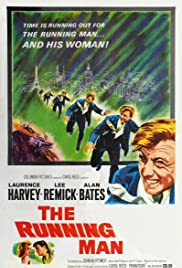 Director Carol Reed's 1963 film The Running Man is a sedate and therefore undervalued Sixties thriller about English pilot scoundrel Rex Black (Laurence Harvey) faking his own death in a glider crash to defraud the insurance company he has a grudge against. But it seems that his devious little schemes have been rumbled by an insurance investigator.
Based on Shelley Smith's novel The Ballad of the Running Man, there is a stylish, amusing screenplay by John Mortimer. The polished performances from Harvey, Lee Remick as his conniving wife and Alan Bates as the insurance investigator, plus Reed's workmanlike direction on eye-catching Spanish Costa del Sol locations, help to make it continually interesting and sometimes very suspenseful.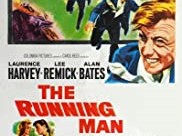 But, clever though it is, it is a slightly run-of-the-mill film for the director of The Third Man, and you would expect more from the writer John Mortimer too. Reed again uses Robert Krasker from The Third Man as his director of photography and his Panavision and Eastman Color cinematography is classy.
Also in the cast are Felix Aylmer, Eleanor Summerfield, Allan Cuthbertson, John Meillon, Fernando Rey, Fortunio Bonanova, Harold Goldblatt, Noel Purcell, Ramsey Ames, Eddie Byrne, Colin Gordon, Roger Delgado, Shirley Gale, Joe Lynch and Lockwood West.
It is also made in the studio at Ardmore Studios, Ireland.
Krasker won a Best Cinematography, Black-and-White Oscar for The Third Man, was a Bafta nominee for The Running Man (1963), and won the British Society of Cinematographers Best Cinematography Award for Romeo and Juliet (1954) and El Cid (1961).
The Running Man is directed by Carol Reed, runs 103 minutes, is made by Peet Productions, is released by Columbia Pictures Corporation (1963) (UK), is written by John Mortimer, based on Shelley Smith's novel The Ballad of the Running Man, is shot in Panavision and Eastman Color by Robert Krasker, is produced by Carol Reed and John R Sloan (associate producer), is scored by William Alwyn, Ron Grainer (composer title music) and Muir Matheson (conductor Sinfonia of London), with Art Direction by John Stoll.
The music is played by Sinfonia of London.
The main titles are by Maurice Binder.
© Derek Winnert 2020 Classic Movie Review 10,314
Check out more reviews on http://derekwinnert.com