The Rover ***½ (2014, Guy Pearce, Robert Pattinson, Scoot McNairy) – Movie Review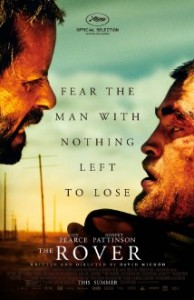 At 47, a scarily ravaged-looking Guy Pearce stars as Eric, a hardened, cold-blooded drifter loner who relentlessly pursues the men who stole his car, which he cares for passionately as his last remaining possession, across the scorched Australian Outback. There, in a dystopian world a decade after global economic collapse, life is nasty, brutish and short.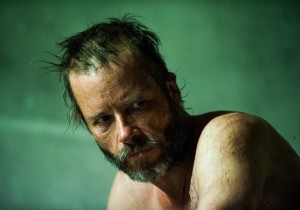 At 28, a worryingly wrecked-looking Robert Pattinson co-stars as Rey, a simple-minded petty criminal who is badly wounded in a botched heist when his fellow gang members make off in a stolen car – Eric's. Rey is abandoned and left to die in the getaway from the disastrous robbery by his own older brother – the main thief, Henry (Scoot McNairy).
Determined to get his only possession back, Eric crosses paths with Rey and forces the vulnerable, naïve young guy to join him as his unwilling accomplice to hunt down the gang, the brother and the car. This leads the duo to form an uneasy bond during what turns out to be their life-or-death quest.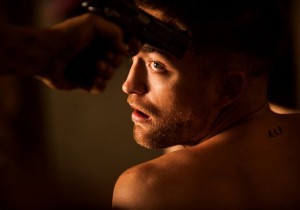 Co-writer/director David Michôd's spare thriller is intense and compelling enough, but perhaps not quite thrilling enough, and it's nowhere as good or exciting as his previous film with Pearce, Animal Kingdom (2010). In a role that Michôd wrote specially for him, the always commendable Pearce is a commanding, menacing presence, in a man of action performance with virtually no dialogue.
By no means obvious casting, Pattinson is solid, though he's sometimes struggling with what's admittedly a difficult role and also with his American accent. McNairy's fine, nice and creepy, but like all the other support actors, he is working with an under-written role.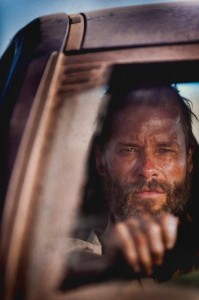 There's lots of exciting Australian Outback atmosphere and startling visuals, and an impressive  soundtrack, so it's an accomplished movie with always something fascinating going on. But as a thriller, it's on the slow and arty side, though nevertheless Michôd does still manage a lot of tension, fear and the trick of surprise.
Actor Joel Edgerton co-wrote the original story with Michôd. You think he might have provide himself with a part in it, but no.
© Derek Winnert 2014 Movie Review
Check out more reviews on http://derekwinnert.com/