The Rocky Horror Picture Show **** (1975, Tim Curry, Susan Sarandon, Barry Bostwick, Richard O'Brien) – Classic Movie Review 1789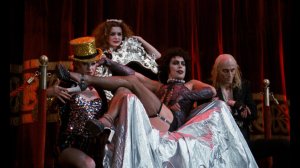 Co-writer and director Jim Sharman and creator Richard O'Brien's incredibly kitsch and exuberant 1975 musical comedy horror movie parody stars a super-slinky young Tim Curry, then just 29. Here he is joyously re-creating his sensational King's Chelsea stage role as Dr Frank-N-Furter, a sweet transvestite from the planet Transsexual, in the galaxy of Transylvania.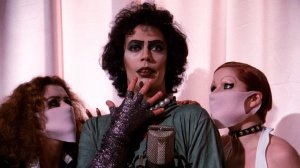 Just like Dr Frankenstein before him, Dr Frank-N-Furter animates a Creature, a perfect specimen of a muscular machismo hunk of man, a Creation called Rocky Horror (Peter Hinwood), who is the centre of the wildest night imaginable of romance, mystery, lust, sex and horror.
Susan Sarandon and Barry Bostwick play the innocent newly engaged couple Brad and Janet, who foolishly stop off on a dark and stormy night at Dr Frank-N-Furter's creepy castle to ask for directions and are instead welcomed inside and then dragged into the night's strange and sexy events.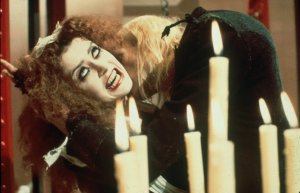 Happily, O'Brien stars as well, also re-creating his stage role of a lifetime as the horrid handyman Riff Raff.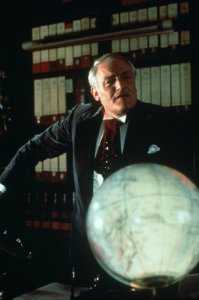 And there are expert tongue-in-cheek support turns from narrator Charles ('It's Just a Jump to the Left') Gray as The Criminologist, Jonathan Adams (as rival scientist Dr Everett V. Scott), Meat Loaf (as Eddie the ex-delivery boy), Little Nell (as the groupie Columbia), Patricia Quinn (as the domestic Magenta), Jeremy Newson, Koo Stark, Gaye Brown and Christopher Biggins are also among the cast.
It's a bumper bundle of glorious, camp alternative fun for grown-ups, with catchy songs, witty dialogue, inventive spoof situations and of course uninhibited performances.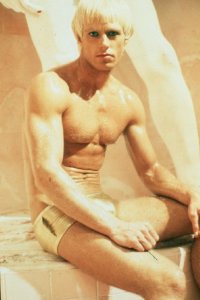 Curry says about Dr Frank-N-Furter: 'The thing about playing somebody like that is it wakes you up to all these possibilities. The one thing I've been very concerned about is to not limit myself either, whether it's artistically, physically, sexually or mentally. He's been a great lesson to me.'
He adds about The Rocky Horror Picture Show: 'I think it's been very liberating sexually for audiences and it was very liberating for me too because it was a huge step to make. My agents were worried that it would ruin my career and, of course, it hasn't. It was the most joyous time of my life. I was still very young, it took me to Hollywood and to Broadway and into a kind of very peculiar immortality, and I'm very grateful.'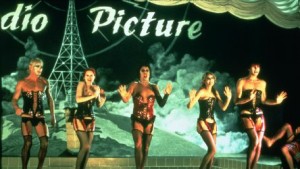 Peter Hinwood was a professional model when he was chosen as the blond muscle hunk Rocky Horror. He had little or no acting experience and his singing voice was dubbed in post-production by Australian singer Trevor White. He shied away from publicity on the film and retired from show business, working as a successful antiques dealer.
The film celebrated the 40th anniversary of its UK release on 15 August 2015 (with the stage show running again in London's West End) and the US on 26 September 2015.
The last word goes to Frank: 'It's not easy having a good time… even smiling makes my face ache.'
© Derek Winnert 2014 Classic Movie Review 1789
Check out more reviews on http://derekwinnert.com/