The Rewrite **** (2014, Hugh Grant, Marisa Tomei) – Movie Review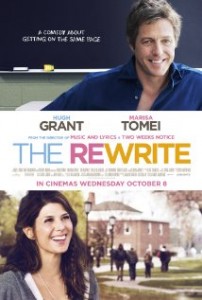 Hugh Grant is back being funny as Keith Michaels, a burnt-out Hollywood-based Oscar-winning Best Screenplay writer, whose agent finds him some desperately needed work teaching a screenwriting course at a college on the East Coast. It's Binghamton, New York, some long ways away from Manhattan, let alone LA.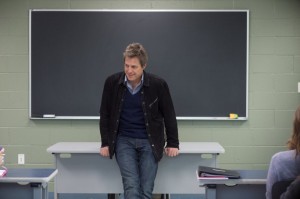 He openly despises both teaching and the students. But he quickly succumbs to the charms of the local slutty sexpot student Karen (Bella Heathcote), getting himself into trouble with the easy-going principal (J.K. Simmons) and the school's frosty, feminist Jane Austen expert (Allison Janney). But, more importantly, he falls for a sweet and charming middle-aged single mom (Marisa Tomei) who talks her way into taking his class.
There are no surprises about this extremely likeable romcom, except that it is actually funny throughout, as well as sweet and charming, with a good premise and witty, movie-savvy dialogue by director Marc Lawrence and expert comedy performances from Grant and the whole of the ensemble. And, guess what? The screenplay doesn't need any kind of a rewrite!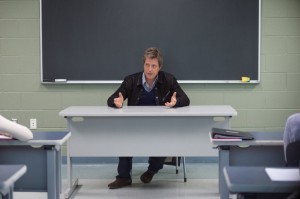 Marc Lawrence is the writer/director of four previous Hugh Grant vehicles – Two Weeks Notice (2002), Music and Lyrics (2007) and Did You Hear About the Morgans? (2009). He first hit the jackpot as the writer of Miss Congeniality (2000).
© Derek Winnert 2014 Movie Review
Check out more reviews on http://derekwinnert.com/