The Return of Martin Guerre [Le Retour de Martin Guerre] **** (1982, Gérard Depardieu, Nathalie Baye, Sylvie Meda) – Classic Movie Review 4985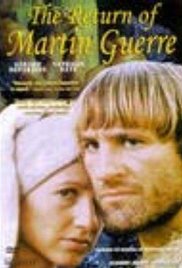 Co-writer/ director Daniel Vigne's highly popular and successful 1982 romantic crime drama, based on the novel by Janet Lewis, finds Gérard Depardieu at a career peak.
Depardieu does well, taking on a for him unusual quiet dignity for his role as Arnaud de Tihl, a 1540s Frenchman who turns up in a small town alleging he was the young man who abandoned his wife Bertrande de Rols (Nathalie Baye) with a child many years ago. She takes him back but the villagers think he is a fraud and an impostor, leading to a nail-biting climatic trial.
Vigne's rich, handsome, and totally compelling film tells a grand, haunting story, and is an examination of identity and a portrait of mediaeval rural society, as well as a mediaeval mystery. It is good throughout, with strong work by everyone concerned,  but the film's highlights are the tense court scenes and the fragrant acting of Depardieu and Baye, who are both magnetically compelling.
Vigne shares the writing credit with Jean-Claude Carrière and Natalie Zemon Davis.
[Spoiler alert] Also in the cast are Sylvie Meda, Maurice Barrier as Uncle Pierre Guerre, Stéphane Peau, Bernard-Pierre Donnadieu (as the real Martin Guerre), Isabelle Sadoyan, Rose Thiéry, Chantal Deruaz, Maurice Jacquemont, Roger Planchon, Tchéky Karyo and Dominique Pinon.
It was remade as Sommersby in 1993. A musical version, Martin Guerre, flopped in London in the Nineties, despite an attempt to save it with extensive re-staging.
© Derek Winnert 2017 Classic Movie Review 4985
Check out more reviews on http://derekwinnert.com