The Real Glory *** (1939, Gary Cooper, David Niven, Broderick Crawford, Andrea Leeds, Reginald Owen, Kay Johnson, Russell Hicks) – Classic Movie Review 4757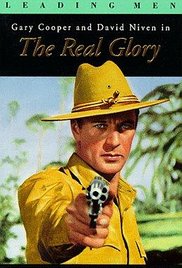 Director Henry Hathaway's gung-ho 1939 historical war adventure movie stars Gary Cooper and David Niven as an American army doctor and an American military lieutenant among those caring for distressed inhabitants of the Philippines in 1906 after the violent US-Spanish war.
The American contingent also helps military matters along by suppressing Filipino insurgents in Hathaway's exciting, fast-moving action film with a heart and what now seems like a too-pat anti-fascist message.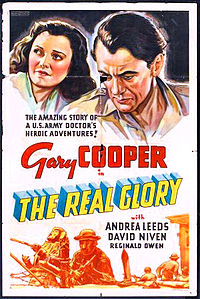 The dated sentiments are uncomfortable, but the film still entertains, not least thanks to the star duo's sterling acting. There's a fine roster of charater actors too – Broderick Crawford, Andrea Leeds, Reginald Owen, Kay Johnson, Russell Hicks, Vladimir Sokoloff, Charles Waldron, Roy Gordon, Henry Kolker, Elmo Lincoln, Charles Stevens and Soledad Jimenez.
The screenplay by Jo Swerling and Robert R Presnell Sr adapts the 1937 novel by Charles L Clifford.
Released just after Germany's invasion of Poland, the film's backdrop is the Rebellion of the Philippine Moros during the US occupation of the Philippines at the start of the 20th century. It was first movie to tackle the Filipino-American war. The US annexed the Philippines in 1898.
The dam destruction scene had to be re-shot, costing more than $10,000.
Niven thought he was miscast and didn't even attempt an American accent.
When United Artists re-issued the film in 1942 as A Yank in the Philippines, the US Office of War Information requested that it was withdrawn as the Philippine Moros had become American allies in World War Two.
© Derek Winnert 2016 Classic Movie Review 4757
Check out more reviews on http://derekwinnert.com