The Range Feud ** (1931, Buck Jones, John Wayne, Susan Fleming) – Classic Movie Review 5483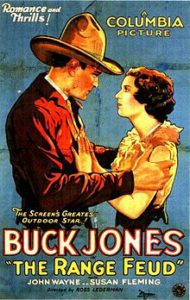 Director D Ross Lederman's 1931 Buck Jones Western may be just a cheap, assembly-line movie but it is briskly handled and entertaining.
Disaster strikes when the new sheriff in town, Buck Gordon (Buck Jones), has no choice but to put his half-brother in jail. John Wayne cuts a dash as the young hero Clint Turner in this fast-moving, above-average B-movie Western, plundering the plot of Romeo and Juliet.
So Sheriff Buck Gordon has to arrest his friend Clint Turner for the murder of his girlfriend Judy Walton (Susan Fleming)'s father John Walton (Edward LeSaint), a rival rancher and enemy of his own father, Dad Turner (Will Walling). Time is running out for Clint, who is about to be hanged, and the Sheriff sniffs for evidence to clear him.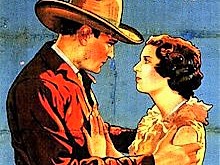 Following his star role in The Big Trail in 1930, it is Wayne's first B-movie Western, one of only three that he made for Columbia Pictures, but one of dozens he made between The Big Trail and his big break-through with Stagecoach in 1939.
Also in the cast are Wallace MacDonald as Hank, Harry Woods as Vandall, Frank Austin as Jed Biggers, Jack Curtis as Bartender Charlie, Glenn Strange as Cowhand Slim, Al Taylor as Walton Cowhand Al and Blackjack Ward as Deputy Jack.
It is followed by Texas Cyclone (1932) and Two-Fisted Law (1932), Wayne's other two Columbia Westerns.
It was remade in 1934 as the Universal movie serial The Red Rider, also with Buck Jones.
© Derek Winnert 2017 Classic Movie Review 5483
Check out more reviews on http://derekwinnert.com