The Rake's Progress [Notorious Gentleman] **** (1945, Rex Harrison, Jean Kent, Griffith Jones, Lilli Palmer, Margaret Johnson, Godfrey Tearle) – Classic Movie Review 4432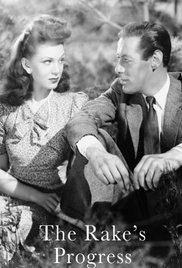 The writing-producer team of Frank Launder and Sidney Gilliat's biography of a modern-day cad, inspired by Hogarth's famous eight prints, is clever, sharp-witted and good humoured.
Director Sidney Gilliat's polished 1945 British comedy drama gives Rex Harrison one of his key roles, and he is perfectly cast as the rake Vivian Kenway in the amusing and touching adventures of a between-the-wars old Etonian who begins his amoral adventures by being sent down from Oxford University after placing a chamber pot on the Martyrs' Memorial, then seducing a waitress (Jean Kent) after she marries his best friend (Griffith Jones).
Harrison's then real-life wife Lilli Palmer gives an effective sustained turn as Rikki Krausner, a Viennese Jewish woman he marries to help her escape the Nazis. [Spoiler alert] But he then drives her to attempt suicide when he has an affair with his father's secretary (Margaret Johnson).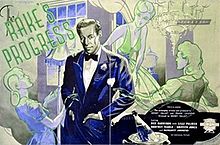 Irritatingly, the Harrison character stops being a scoundrel to become redeemed in battle by joining the army and facing a hero's death at the outbreak of World War Two in the film's coda, in a concession to its wartime shooting. But otherwise, apart from this misguided divergence from the theme of The Rake's Progress paintings, Gilliat's film is an attractive piece.
The Americans retitled it Notorious Gentleman because it was thought, probably rightly, that most audiences there would not know what a rake was. It then fell foul of US censors who trimmed scenes for 'graphic amoral and sexual content'.
Also in the cast are Godfrey Tearle, Guy Middleton, Marie Lohr, Garry Marsh, David Horne, Alan Wheatley, Maurice Denham, Kenneth Griffith, Brefni O'Rorke, Charles Victor, Joan Maude, Patricia Laffan, Emrys Jones, John Salew, Howard Marion Crawford, Olga Lindo, Kynaston Reeves and Jack Melford.
Launder and Gilliat write the screenplay from the story by Val Valentine.
© Derek Winnert 2016 Classic Movie Review 4432
Check out more reviews on http://derekwinnert.com