The Rains Came **** (1939, Myrna Loy, Tyrone Power, George Brent, Brenda Joyce, Nigel Bruce, Henry Travers) – Classic Movie Review 5202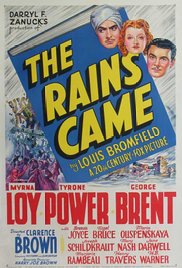 Director Clarence Brown's 1939 romantic adventure drama movie stars Tyrone Power as a handsome Indian nobleman Major Rama Safti, trained as a doctor in America, who returns to India to practise in the princely state of Ranchipur. There he is deflected from the true and honourable path of a gentleman by dallying with adventurous English married woman Lady Edwina Esketh (Myrna Loy) – that is until the rains come and duty calls.
The Rains Came is quality vintage soap opera with acting, script (Philip Dunne and Julien Josephson) and Oscar-winning Best Special Effects (the first winner in this category) well up to snuff, plus the budget and imagination big enough to encompass flood, quake and plague. Thank you 20th Century Fox and its technical staff.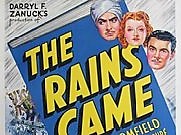 But it is time to sympathise yet again with George Brent, saddled with a rotten part as Loy's drunken former lover, Tom Ransome. Nigel Bruce has thankless task of jollying up the role of Loy's husband, Lord Albert Esketh. Nevertheless, Brent and Bruce are very good in their roles. And Maria Ouspenskaya and H B Warner are notable as the Maharani and Maharajah, the rulers of Ranchipur.
Also in the first-rate cast are Brenda Joyce, Joseph Schildkraut, Henry Travers, Laura Hope Crews, Mary Nash, Jane Darwell, Marjorie Rambeau, William Royle, Harry Hayden, Abner Biberman, Montague Shaw, Herbert Evans, Mara Alexander, William Edmunds, George Regas, Sam Harris, Fern Emmett, Leyland Hodgson, Frank Lacteen, Connie Leon, Rita Page and Pedro Regas.
The Oscar went to Fred Sersen (photographic) and Edmund H Hansen (sound). There were five other nominations – for Best Cinematography, Black-and-White (Arthur C. Miller), Best Art Direction (William S Darling, George Dudley), Best Sound, Recording (Edmund H Hansen), Best Film Editing (Barbara McLean) and Best Original Score (Alfred Newman). This was the year of Gone with the Wind, which swept the board the Oscars, so Sersen and Hansen's victory was a triumph, remembering Gone with the Wind's effects, especially the burning of Atlanta.
The screenplay is based on Louis Bromfield's novel. The Rains Came is so much better than its remake The Rains of Ranchipur (1955), with Lana Turner, Fred MacMurray and Richard Burton.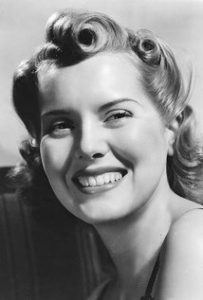 20th Century Fox signed on Betty Graffina Leabo and changed her name to Brenda Joyce after silent star Alice Joyce and gave her this impressive movie debut here as Fern Simon. She went on to play Jane in Tarzan and the Amazons (1945), but left after her fifth Ape Man movie, Tarzan's Magic Fountain (1949), and quit movies for ever. She recalled: 'I was never enamored of Hollywood and films. The only good friend I had at 20th Century Fox was Gene Tierney.'
© Derek Winnert 2017 Classic Movie Review 5202
Check out more reviews on http://derekwinnert.com