The Rainmaker **** (1997, Matt Damon, Danny DeVito, Claire Danes, Jon Voight, Mary Kay Place, Danny Glover) – Classic Movie Review 382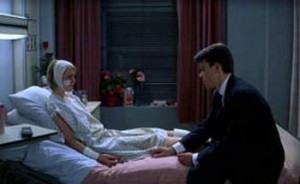 Francis Ford Coppola's magnetic 1997 thriller makes its case to win the award for the best film adaptation of a John Grisham legal mystery novel. It's as tense, atmospheric, characterful and intriguing as they come. Grisham has hailed it as his favourite of all the films adapted from his books: 'To me it's the best adaptation. I love the movie. It's so well done.'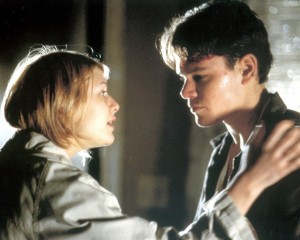 Matt Damon and Danny DeVito form an unlikely, but totally winning odd-couple partnership, as an inexperienced, idealistic young lawyer and a cynical oldster who set up a Memphis low-rent legal firm together and find themselves battling the giant, in the form of arrogant Leo Drummond (Jon Voight)'s rich legal company, whose client is a cheating, corrupt insurance company.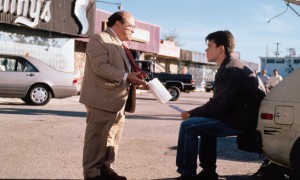 Damon plays Rudy Baylor, an unemployed novice attorney, who becomes the only hope of an ageing couple, Dot and Buddy Black (Mary Kay Place, Red West), whose insurance company won't pay for a bone marrow operation that could save the life of their leukaemia-sufferer son Donny Ray (Johnny Whitworth).
While taking on corporate America with Deck Shifflet (DeVito), Damon's Baylor falls for battered young married woman Kelly Riker (Claire Danes) and befriends his one other client, old Colleen 'Miss Birdie' Birdsong (Teresa Wright), who rents out her spare annex home to him.
Damon and DeVito bring exactly the right touch to their roles and share excellent, odd-couple screen chemistry, with Damon delivering earnest puppy-dog charm and DeVito cynical and sometimes knockabout laughs.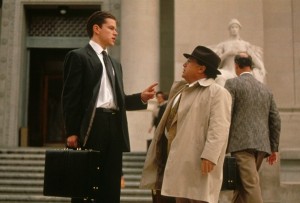 Writer-director Coppola makes a sterling job of the material, keeping it on the boil for its long running time (135 minutes), and it is beautifully shot by cinematographer John Toll. Coppola has assembled a very good cast, and as always he is good with actors, bringing out the best in them. The variable Jon Voight, for example, is notably good here.

Plus there is fine work from a memorable support cast, also including Dean Stockwell as the unfair-minded judge, Virginia Madsen as the insurance company whistleblower, Mickey Rourke as Rudy Baylor's first, dodgy employer Bruiser Stone, Andrew Shue as Kelly Riker's abusive husband, Roy Scheider as the insurance company's slimy CEO and Danny Glover as the fair-minded judge in the long courtroom drama finale.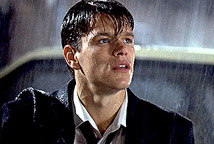 Actor Michael Douglas is one of the three producers who ensure a handsome, classy production.
By the way, a rainmaker is a lawyer skilled at bringing in and keeping clients, often involving showmanship or self-promotion like a tribal rain dance.
© Derek Winnert 2013 Classic Movie Review 382
Check out more reviews on http://derekwinnert.com/