The Purge **** (2013, Ethan Hawke, Lena Headey, Adelaide Kane, Max Burkholder) – Movie Review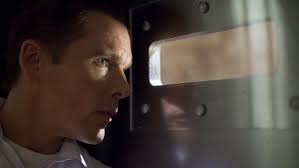 It's the near future, 2022 actually, violence and unemployment are eradicated, and everybody's happy, except that on one night of the year, The Purge takes place. For 12 hours everyone has a free pass – any activity is legal. Anyone can kill anyone else freely. No police, no ambulances. Good, rich people take to their smart houses, having bought elaborate safety systems to protect themselves indoors. Ethan Hawke's the wealthy man the locals have bought their systems from.
Living in a huge, beautifully appointed suburban mansion in much comfort on the proceeds of his work, Hawke is married to Lena Headey, both of them ideal American parents with a couple of nice, enterprising kids. Adelaide Kane plays their clever but rebellious 16-year-old daughter Zoey, Max Burkholder plays their 14-year-old son Charlie.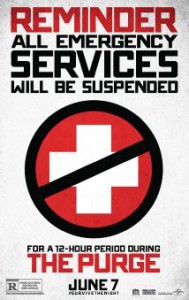 The night of The Purge on March 21, the family set down in front of their security TV screens at 7pm and lower the metal shutters on their doors and windows, and activate the security system.
But then: (1) Charlie sees a homeless man (Edwin Hodge) crying for help in the street and deactivates the system to let him in the house; (2) Zoey's older boyfriend (Tony Oller) suddenly turns up in the house, saying he's come to talk to her dad about dating her; and (3) the band of masked, armed Freaks who were chasing the homeless man turns up outside their door and their eerily polite leader (Rhys Wakefield) demands they hand him over for killing or they'll die too.
What's Ethan and Lena going to have to do to get through the night with their family alive?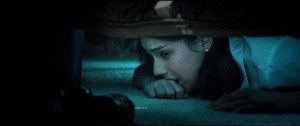 This nicely set-up sci-fi horror thriller keeps going inventively through its taut, tense 90 minutes, with the long, creepy build-up eventually exploding in the expected edge-of-seat bloody violence. The idea may recall a few others (The Hunger Games for one), but it seems fresh and new, so you could never say 'I seen it all before' and that's a good start. The themes are well explored and it works nicely as a morality play as well as action fantasy.
Ethan and Lena are ideal as the attractive but dull middle-class, middle-aged couple who have to reluctantly fight back. The young co-stars are effective too, particularly the androgynous Burkholder, and the boy's sidekick, a creepy remote-controlled doll-tank hybrid named Timmy, is another star of the movie. Just as well, maybe, as there are so few cast members.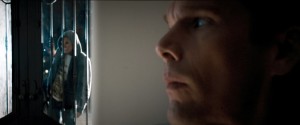 Keeping the whole movie in the house and its grounds adds to the intense atmosphere, as well as making the film highly cost effective. They rented the 10,000 square-foot house they needed from its apparently reluctant owners in Chatsworth, California, and it's certainly another star of the movie, too.
Writer-director James DeMonaco came up with the idea and films very successfully on the very tight filming schedule forced on him by his budget-conscious producers. He's done a grand job. It's not a perfect movie, but it is intelligent and entertaining. Relax into its provocative, far-fetched idea and it's an exciting ride.
It was a hit and The Purge: Anarchy followed in 2014 and The Purge: Election Year in 2016.
© Derek Winnert 2013 Movie Review
Check out more reviews on http://derekwinnert.com