The Purge: Anarchy *** (2014, Frank Grillo, Carmen Ejogo, Kiele Sanchez, Zach Gilford) – Movie Review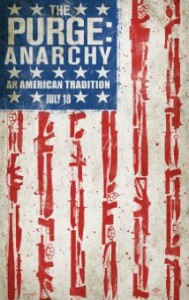 Another year, another Purge. James DeMonaco's sequel to his 2013 hit focuses on a young couple (Kiele Sanchez, Zach Gilford) trying to survive on the Los Angeles streets after their car breaks down just as the annual purge commences. As you may remember from part one, sometime in the near future, for 12 hours once a year, all crime, including murder, is legal.
In other scenarios, a police sergeant (Frank Grillo) goes out into the streets to get revenge on the man who killed his son, and a mother and daughter (Carmen Ejogo, Zoë Soul) run from their home after assailants destroy it. All five eventually meet up in a desperate attempt to survive the night.
This time the far-fetched premise seems far easier to resist, partly because the idea's already been used up, and partly because original stars Ethan Hawke and Lena Headey are sorely missed. There are lots of new ideas kicking around here, but they're jumbled up and undigested.
Now that the film has turned into a dystopian, Streets of Fire type urban warfare scenario, it seems way less fresh, interesting, credible or original. It is odd that the cast don't meet zombies or Godzillas or something like that when they're out and about on Purge night, it all feels that unbelievable.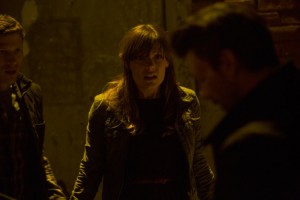 Certainly, The Purge: Anarchy is tense and occasionally scary, with some well set-up and well-staged set pieces, as well as violent. It's a horror movie, not a thriller, which the first one was. But it is all played deadly seriously, so obviously it is not meant to be any actual fun.
There are no dryly witty one-liners an no dark comedy to keep us entertained. And they manage to make the cardinal error of first badly wounding and then coldly killing off one of the major characters whose survival we have rooting for the whole darned film, which is of course just dead depressing.
It was another hit and The Purge: Election Year followed in 2016.
Writer, producer director DeMonaco wrote the screenplays for Jack (1996), The Negotiator (1998) and Assault on Precinct 13 (2005).
http://derekwinnert.com/the-purge-film-review/
© Derek Winnert 2014 Movie Review
Check out more reviews on http://derekwinnert.com/