The Place Beyond the Pines **** (2012, Ryan Gosling, Eva Mendes, Bradley Cooper, Ben Mendelsohn, Emory Cohen, Dane deHaan, Ray Liotta, Harris Yulin) – Movie Review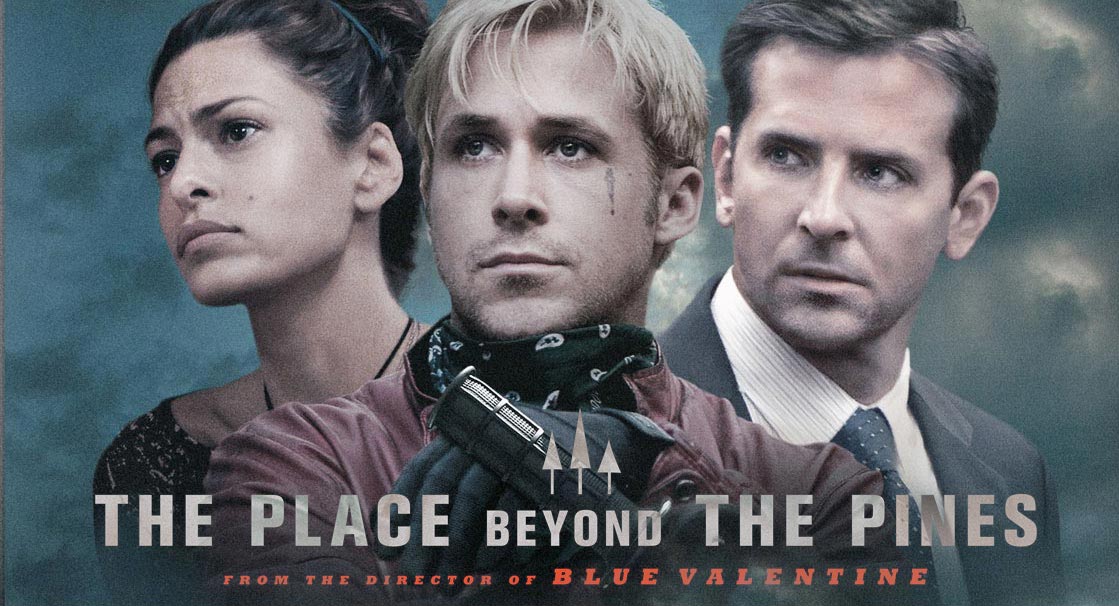 A complex, ambitious, intimate epic crime drama, told at great length and in three parts, this steadily puts on momentum and power, and gains stature as it goes along. Weird that potentially the most exciting and dramatic section is the least good, but there it is. I think Ryan Gosling's self-consciously mannered and self-regarding turn is the problem here. Others may find him charismatic, and if so this part's going to be the best, I guess.
Gosling plays a tattoo-ed, blonde-haired, trailer-trash biker boy, who makes a living as a motorcycle stunt rider with a travelling carnival. Quitting his job, he takes to robbing banks with the help of his mate Ben Mendelsohn, who has a white van Gosling can conveniently ride into to make his getaway when the cops are chasing him. You think all this bank robbery stuff would be edge of seat, wouldn't you? But mostly it's pretty routine and throwaway. Though, then again, it does have its moments, some ultra tense.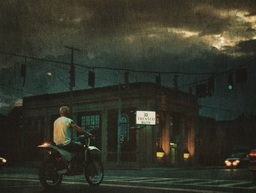 Gosling's got a very young son by his ex-lover, Eva Mendes, and fancies bringing the kid presents, seriously upsetting Mendes and her current man. This role gives Mendes a seriously difficult problem, she hasn't really got anything of a role to hang her acting on and the boyfriend part's a total cypher. All eyes on Gosling, then, and his gay biker look. Surely that wasn't what they intended?
Part two, and enter Bradley Cooper's ambitious lone rookie cop, a voice of reason and truth at the local police force that's infected by corrupt coppers like Ray Liotta, giving a masterclass in evil, as usual. You might guess at this point that I'm desperately trying to avoid spoilers. Well, I am anyway. So I'll just say Cooper's ex-high court judge dad, Harris Yulin, tries to find a plan to bail Cooper out of the mess he finds himself in when he tries to tell the truth about the bent detective to his police captain.
All too sensitive seeming, Cooper also looks a bit over-careful in the haircut department, and rather generally over-careful in his appearance to be a convincing cop. But his acting's loads better than Gosling's, going for real as he turns from quiet smouldering to some carefully modulated shouting acting. This is not easy to hold onto, and Cooper does. Cooper's getting better and better as a performer as he gets less mannered and self-regarding, the very problems afflicting Gosling, who needs to learn a trick or two from Cooper.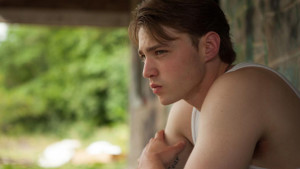 Anyhoo. Along comes part three and the sins of the past haunt the lives of two high school boys, one of whom is Cooper's arrogant, druggie son, Emory Cohen. The other's a sensitive working-class boy at his school, Dane deHaan, who can supply the drugs and a solution to the mysteries of the whole story.
As an epic, character-driven, incident-propelled and atmosphere-led noirish thriller, The Place Beyond the Pines is clearly a movie made by film-lovin' folk, with a dreamy, poetic dimension, identifying itself as a throwback to 50s teen angst movies like Rebel without a Cause, 50s noir thrillers and 80s youth movies like Stand by Me and The Goonies.  Impressive and involving, it builds steadily and relentlessly – and often surprisingly – to a moving climax.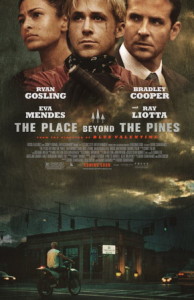 The ingenious, multi-layered story's admittedly a script-writers' fantasy, which means you never actually quite believe any of it, but it's richly entertaining and enjoyable for all that. The movie works in a mind-bending movie world, parallel to our own, unless, that is, you live in a celluloid dream world of course, and perhaps you do. It's may be kind of sad that the artificially concocted script lacks credibility, but as with the old movies that doesn't matter much, probably not at all.
The acting from a brilliant cast is mostly outstanding, especially from Bradley Cooper and the two boys, with Ray Liotta, Harris Yulin and Ben Mendelsohn building notable, memorable characters in support. The directorial handling from co-writer Derek Cianfrance (2010's Blue Valentine) is particularly stylish, often brio work, never putting a foot wrong, and we can all eagerly await his next opus.
The film reunites Cianfrance and Gosling, who collaborated on Blue Valentine. It is scored by Mike Patton and also features previously written music by Estonian composer Arvo Pärt.
The title is the English meaning of the city of Schenectady, New York, derived loosely from a Mohawk word for 'place beyond the pine plains.'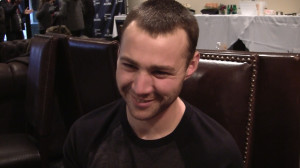 In 2015 Emory Cohen re-emerged as the Italian boy hero of Brooklyn.
http://derekwinnert.com/brooklyn-2015-saoirse-ronan-emory-cohen-domhnall-gleeson-jim-broadbent-julie-walters/
© Derek Winnert 2013 Movie Review
Check out more reviews on http://derekwinnert.com