The Perfect Score ** (2004, Scarlett Johansson, Erika Christensen, Chris Evans, Bryan Greenberg, Matthew Lillard) – Classic Movie Review 4890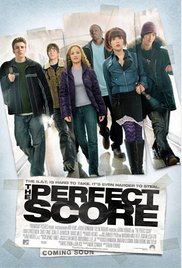 Director Brian Robbins's decent 2004 youth drama cannot earn a perfect score, but it does win marks for trying. The screenplay by Marc Hyman, Jon Zack and Mark Schwahn tells a familiar yet friendly yarn, with a good spirit and moral message.
Six high school kids plot to break into the building that houses the answers to their SAT exam (Scholastic Aptitude Test) that will get them into the top colleges they aspire to.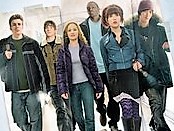 Alas, the acting is a bit dull, surprisingly so, with a young Chris Evans (the Captain America one, not the British presenter one!) a handsome but rather empty-seeming star presence as Kyle, the student who leads the scam. It also stars the really good cast of Scarlett Johansson, Erika Christensen, Bryan Greenberg and Matthew Lillard.
But, after a lot of drossy chatter, the raid on the test centre swings enjoyably into motion and the movie into action.
Also in the cast are Darius Miles, Leonardo Nam, Trya Ferrell, Vanessa Angel, Bill Mackenzie, Dan Zukovic, Iris Quinn, Lorena Gale, Patricia Idlette, Lynda Boyd, Michael Ryan, Robert Clarke, Serge Houde and Kyle Labine.
It comes from the director of Good Burger, Hardball and Varsity Blues.
Evans was already 23, a bit old to be a high school kid! It was the same year he made Cellular.
Johansson and Evans also appear together as Black Widow and Captain America in The Avengers (2012), Captain America: The Winter Soldier (2014), Avengers: Age of Ultron (2015) and Captain America: Civil War (2016).
© Derek Winnert 2017 Classic Movie Review 4890
Check out more reviews on http://derekwinnert.com