The Notebook **** (2004, Rachel McAdams, James Garner, Gena Rowlands, Ryan Gosling, James Marsden, Joan Allen, Sam Shepard) – Classic Movie Review 4765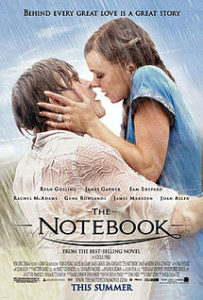 Nicholas Sparks's famous 1996 romantic epic novel arrives on screen in 2004 courtesy director Nick Cassavetes and a screenplay by Jeremy Leven (adaptation by Jan Sardi). Incredibly popular as the 15th highest-grossing romantic drama film of all time, and voted Most Romantic Movies of All Time, it is chick-flick heaven.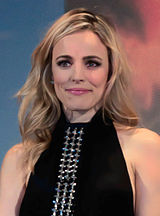 Rachel McAdams and Ryan Gosling star as heiress Allie Hamilton and Noah Calhoun, a young couple who fall in love in the Forties, but their story is narrated in the present day by the elderly Duke (James Garner) to a fellow resident (played by Gena Rowlands, the director's mother) in a nursing home.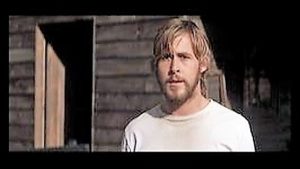 Kevin Connolly plays Noah's friend Fin, who enlist together to fight in World War Two, and James Marsden co-stars as the gracefully spurned Lon Hammond Jr, the other guy Allie (Rachel McAdams) is with before she dramatically kisses Noah (Ryan Gosling) in the rain and heads off to live happily ever after.
Leven's screenplay, the cinematography by Robert Fraisse and the two star performances, are all first rate.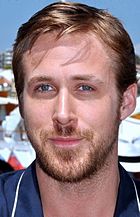 Also in the fine cast are Joan Allen as Ann Hamilton, Jamie Brown as Martha Shaw, Sam Shepard as Frank Calhoun, David Thornton as John Hamilton, Heather Wahlquist as Sara Tuffington and Ed Grady as Harry.
After some mixed reviews, and some good ones (Ebert said the 'actors are blessed by good material'), it became a sleeper hit and has gained a cult following. The film grossed $115 million worldwide, most of it ($81 million) in North America.
It runs a hefty 124 minutes but on 11 November 2012, the ABC Family channel premiered an even heftier extended version with deleted scenes added back. Well, you maybe can't have too much of a good thing.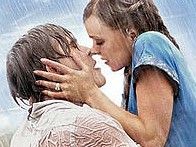 It was filmed mostly on location in South Carolina. The nursing home scenes were filmed at Rice Hope Plantation, Georgetown County, South Carolina. The campus shown is the College of Charleston. The wintry battlefield is just outside Montreal, Quebec.
Cassavetes searched for someone unknown and 'not handsome' to play Noah and cast Gosling, who responded: 'He's crazy. I couldn't be more wrong for this movie.' There followed a nationwide search to find the film's heroine. Cassavetes said: 'When Rachel McAdams came in and read [for the role of Allie], it was apparent that she was the one. She and Ryan had great chemistry between them.'
Beautiful people Marsden and McAdams would have made a perfect couple but he is all too handsome to play the film's hero. It is interesting, then, that the 'not handsome' Gosling has enjoyed a higher profile career than Marsden since then.
© Derek Winnert 2016 Classic Movie Review 4765
Check out more reviews on http://derekwinnert.com