The Night Club Lady *** (1932, Adolphe Menjou, Mayo Methot, Ruthelma Stevens, Richard 'Skeets' Gallagher) – Classic Movie Review 4293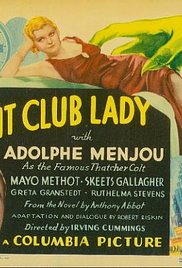 This nifty mystery movie is the second film in Adolphe Menjou's two-film Columbia Pictures' series, followed by The Circus Queen Murder (1933). It is available to be seen on Turner Classic Movies.
Menjou stars as top cop police commissioner Thatcher Colt, who, along with his assistant Kelly (Ruthelma Stevens), investigates the murder of night club gal Lola Carewe (Mayo Methot) when under police surveillance after a death threat.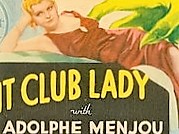 Menjou's stylish playing and Irving Cummings's smooth direction keep the familiar mystery bubbling along gently but quite nicely.
Robert Riskin's screenplay is based on the novel by Anthony Abbott (aka Foulton Oursler).
Also in the cast are Richard 'Skeets' Gallagher, Blanche Friderici, Nat Pendleton, Albert Conti, Greta Granstedt, Gerald Fielding, Edward Brady, George Humbert, Niles Welch, Wilhelm von Brincken, Teru Shimada and Frank Darien.
Eventually there was a third film, The Panther's Claw, in 1942, with Police Commissioner Thatcher Colt played by Sidney Blackmer. Frank Darien is the only actor from this first Colt feature to appear in it – but as a different character.
© Derek Winnert 2016 Classic Movie Review 4293
Check out more reviews on http://derekwinnert.com