The Natural **** (1984, Robert Redford, Robert Duvall, Glenn Close, Kim Basinger and Barbara Hershey, Wilford Brimley, Robert Prosky) – Classic Movie Review 4071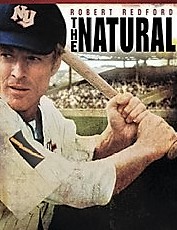 Still in his golden boy era, Robert Redford stars as captain of the all-star actor team that director Barry Levinson has recruited for his 1984 comedic and mystical sports drama fable about a Thirties baseball hero, based on Bernard Malamud's novel.
There were four 1985 Oscar nominations – Best Supporting Actress (Glenn Close), Best Cinematography (Caleb Deschanel), Best Art Direction-Set Decoration (Mel Bourne, Angelo P. Graham, Bruce Weintraub) and Best Music, Original Score (Randy Newman) – but no wins. Kim Basinger took the Golden Globe 1985 Best Supporting Actress nomination, but did not win.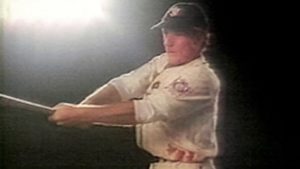 The surefire story, Caleb Deschanel's sumptuous cinematography, Randy Newman's score, and Levinson's winning direction make this a rewarding, old-style Hollywood entertainment.
It is let down only slightly by Phil Dusenberry and Roger Towne's meandering, unfocused screenplay, over-laden with schmaltz and slightly strained analogies with King Arthur and Camelot.
Redford is a natural for the role of Roy Hobbs, a legendary baseball player with divine talent, and Glenn Close won her third of so far six Oscar nominations as Redford's childhood sweetheart Iris Gaines, while Kim Basinger and Barbara Hershey also impress as other women in Redford 's life, Memo Paris and Harriet Bird. Also in the star cast are Robert Duvall, Wilford Brimley, Robert Prosky, Richard Farnsworth, Darren McGavin, Joe Don Baker, Alan Fudge, John Finnegan and Michael Madsen.
© Derek Winnert 2016 Classic Movie Review 4071
Check out more reviews on http://derekwinnert