The Naked Civil Servant ****½ (1975, John Hurt, Patricia Hodge, Katherine Schofield, Stanley Lebor, Quentin Crisp) – Classic Movie Review 4952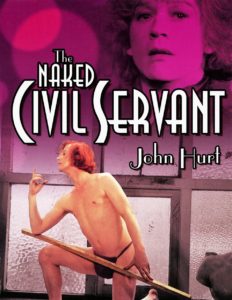 'Never keep up with the Joneses. Drag them down to your level. It's cheaper.'
Director Jack Gold's glittering, crisply entertaining 1975 TV movie is a triumph, with a dazzling performance by John Hurt as real-life flamboyant effeminate homosexual Quentin Crisp, 'one of the stately homos of England' and enduring gay icon.
Hurt won the BAFTA TV award for Best Actor in 1976 and the film won the 1976 Prix Italia.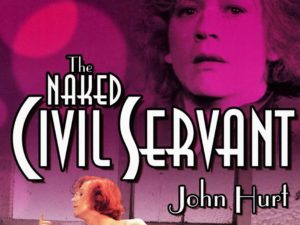 In the campaigning story, by a mixture of boldness, cheek, good humour, wisdom and sheer bravery, Mr Crisp triumphs over the petty prejudices of the oppressive straight society in the UK at a time when it was illegal for men to love one another (the Thirties to the Sixties).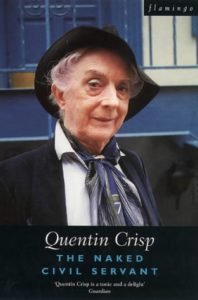 Dripping with the original author Crisp's often hilarious Wildean epigrams, Philip Mackie's script, based on Crisp's autobiographical book of the same name, is wise and witty as well as incisive and economical. Gold's direction is bravura, mixing realism with fantasy and Brechtian devices.
Crisp himself puts in an appearance at the end, looking deservedly triumphant as he wanders the then modern-day Seventies London streets. The film helped to turned him into a little star, burning bright.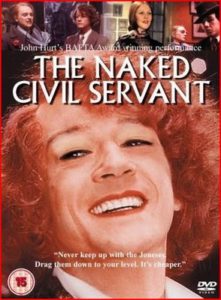 Crisp's then seemingly outrageous public behaviour had made him a pioneer in altering British public attitudes to homosexuality in the late Sixties and early Seventies. And, with this highly popular, high-profile made-for-TV film, Crisp and Hurt help to change attitudes further.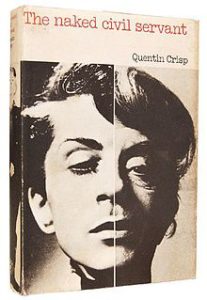 Hurt recalled he had been 'warned not to do it – they said you'll never work again.' But it proved a rousing success. Hurt won several awards, notably the Bafta, and it helped turn him into a high profile star.
Also in the cast are Patricia Hodge, Katherine Schofield, Stanley Lebor, Quentin Crisp, Liz Gebhardt, Colin Higgins, John Rhys-Davies, Stephen Johnstone, Antonia Pemberton, Lloyd Lamble, Joan Ryan, Frank Forsyth, Shane Bryant, Ron Pember, Roger Lloyd-Pack, Adrian Shergold, Derek West, Frederick Treves, Annette Badland, Don Fellows, Bob Sherman, Susan Wooldridge, Martin Boddey and Phil Daniels.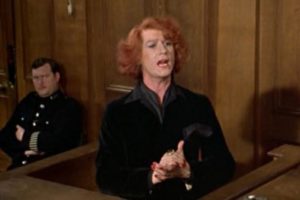 Hurt also starred in the 2009 follow-up film, An Englishman in New York.
It runs 77 minutes, was made by Thames TV, shown on ITV, is shot by Mike Fash, produced by Verity Lambert, scored by Carl Davis and designed by Allan Cameron.
The irreplaceable John Hurt died on January 22, 1940 , aged 77.
© Derek Winnert 2017 Classic Movie Review 4952
Check out more reviews on http://derekwinnert.com