The Musketeer **** (2001, Justin Chambers, Tim Roth, Mena Suvari, Catherine Deneuve, Stephen Rea) – Classic Movie Review 4002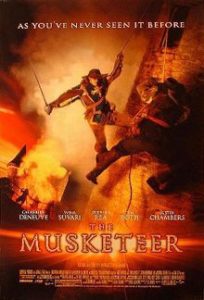 In 17th century Paris, a peasant boy, young D'Artagnan (Max Dolbey), witnesses the death of his father at the hands of the dastardly villain Febre (Tim Roth) and sets out to join the legendary royal guards in an effort to gain revenge. It's personal: Febre wants his own revenge on D'Artagnan, whose sword cut blinded him in one eye.
Justin Chambers (as the adult D'Artagnan) and Roth are ideal as the hero and villain in cinematographer-director Peter Hyams's stirring, action-packed 2001 swashbuckling adventure based on the classic Alexandre Dumas père novel tale The Three Musketeers.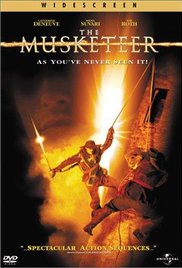 Catherine Deneuve is suitably regal as the Queen in peril from Roth and Rea, Mena Suvari makes her mark as the Queen's supporter Francesca Bonacieux, Stephen Rea enjoys himself playing Cardinal Richelieu, and Bill Treacher co-stars as Suvari's lip-smackingly lecherous uncle Bonacieux.
This is a highly creditable and engagingly lusty version of the old vintage yarn, with a strong screenplay by Gene Quintano, striking visuals, an authentic take on history and old Paris, thrilling action sequences and swordplay, and exciting performances from the stars and character actors. The reason the action sequences are thrilling is that Tsui Hark's regular actor Xin-Xin Xiong is a stunt choreographer, mixing swordplay with martial arts.
The stunts and special effects are from the team behind Ronin, Taxi, Taxi 2 and Brotherhood of the Wolf.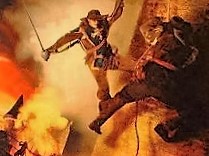 Also in the cast are Daniel Mesguich as King Louis XIII, David Schofield as Richelieu's henchman Rochefort, Nick Moran as Aramis, Steve Speirs as Porthos, Jan-Gregor Kremp as Athos, Jeremy Clyde as Lord Buckingham, Michael Byrne as Treville, Jean-Pierre Castaldi as Planchet, Tsilla Chelton, Luc Gentil, Catherine Erhardy and Florent Bigot De Nesle.
The rock band Sonic Youth appear, disguised as minstrels, playing a medieval version of Youth against Fascism.
It cost $40 million, and sadly took only $34 million worldwide, with the $7 million non-North America box office especially disappointing. Mysteriously, it had poor reviews, especially for the acting, editing and martial arts, all undeservedly much criticised.
© Derek Winnert 2016 Classic Movie Review 4002
Check out more reviews on http://derekwinnert.com