The Mouse on the Moon **** (1963, Margaret Rutherford, David Kossoff, Bernard Cribbins, Terry-Thomas, Ron Moody, June Ritchie) – Classic Movie Review 1647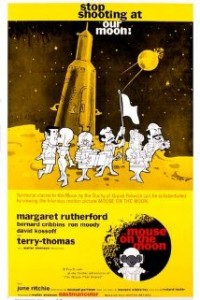 Director Richard Lester's 1963 satirical comedy sequel to 1959's The Mouse that Roared has major cast and crew changes but is thankfully still very funny, delightful and often hilarious.
Sadly, there is no Peter Sellers as star this time, but in a confusing gender-bender development the delicious Margaret Rutherford mugs away delightfully in one of his three old roles in the original as the dotty Grand Duchess Gloriana XIII of Grand Fenwick, presiding over her duchy's entry into the space race.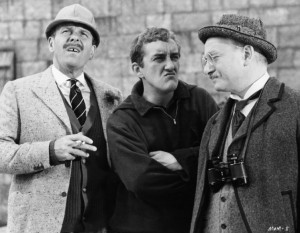 David Kossoff, re-creating his bomb-inventing mad scientist role of Doctor Alfred Kokintz from the first film, sparks off the 60s space-race satire plot when he discovers that Grand Fenwick's only home-fermented wine and sole export, Pinot Grand Fenwick, makes an explosive rocket propellant. The story is set off in an unusual way with a hot water problem in the castle of the cash-strapped duchy. To get the money for new plumbing, Grand Fenwick seeks American aid for space research and then the Russians chip in too.
Lester's movie is jam packed with delicious performances all round from a great comedy star character actor ensemble, but especially from Rutherford, Kossoff and Ron Moody who takes over another of Sellers's roles as the country's Prime Minister, the tricky premier Count Mountjoy. Roddy McMillan takes over from Leo McKern as the opposition leader Benter. Bernard Cribbins, Terry-Thomas, June Ritchie, John le Mesurier and Eric Barker also star.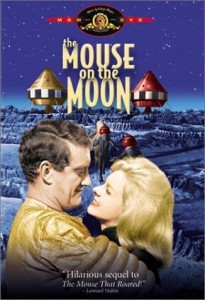 Michael Trubshawe, Peter Sallis, Clive Dunn, Hugh Lloyd, Graham Stark, Mario Fabrizi, Guy Deghy, Richard Marner, Archie Duncan, Allan Cuthbertson, Robin Bailey George Chisholm, John Bluthal, John Wood, Vincent Ball, Ed Bishop, Murray Kash and Rutherford's husband Stringer Davis also co-star, every one a name to recall and reckon with. Frankie Howerd appears as himself. These were the days of prodigious Brit comedy talent in an age of giants.
It is only director Lester's first feature (after the Oscar-nominated 1959 Goons short The Running Jumping & Standing Still Film), but he handles it extremely adroitly and niftily. It led him on to his next triumph, A Hard Day's Night, with the same producer Walter Shenson,who had landed the rights to make a movie with The Beatles who were big fans of The Goons. Neat connection there!
Adapting characters and themes from by Leonard Wibberley's novel The Wrath of Grapes, Michael Pertwee takes over the writing duties from Roger MacDougall and Stanley Mann.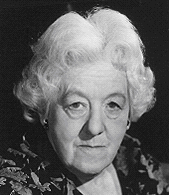 Balham-born Oscar-winner Margaret Rutherford died on aged 80. Despite appearing in 50 films, it is as Madame Arcati in David Lean's Blithe Spirit (1945) and as Miss Jane Marple that she is best remembered, Murder Ahoy (1964) among them. She was interred at Saint James Churchyard in Gerrards Cross, Buckinghamshire, with her husband Stringer Davis. Her epitaph reads 'A Blithe Spirit'.
'You never have a comedian who hasn't got a very deep strain of sadness within him or her,' she said. 'One thing is incidental on the other. Every great clown has been very near to tragedy.' Just before her birth, her father murdered her grandfather and then her mother died when she was three.
http://derekwinnert.com/murder-ahoy-1964-margaret-rutherford-classic-film-review-864/
http://derekwinnert.com/blithe-spirit-classic-film-review-322/
© Derek Winnert 2014 Classic Movie Review 1647
Check out more reviews on http://derekwinnert.com/