The Monster That Challenged the World *** (1957, Tim Holt, Audrey Dalton, Hans Conried) – Classic Movie Review 3920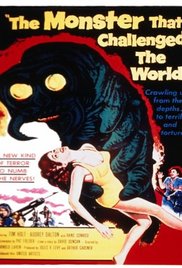 Dr Jess Rogers: 'We must remember that these creatures can travel over land, too.'
Director Arnold Laven's junior-league 1957 sci-fi horror movie/ creature feature is surprisingly well done and entertaining. It stars Tim Holt as John 'Twill' Twillinger, the US lieutenant commander who fights back when giant caterpillary mollusks threaten the Earth's inhabitants in their search for lunch.
Hans Conried plays Dr Jess Rogers, the boffin who fatefully finds weird eggs in a Californian lake and hatches them, and Audrey Dalton plays Gail MacKenzie.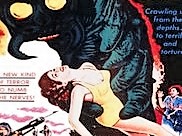 The one-time good-for-its-day trick work of course looks very tame now but also cute and charming. Lester White photographs it in glorious black and white. Though made by MGM, it had a tiny budget of $250,000.
Also in the cast are Harlan Warde, Mimi Gibson, Gordon Jones, Milton Parsons, Casey Adams [Max Showalter], Ralph Moody, Marjorie Stapp and Dennis McCarthy.
Underwater scenes were shot at Catalina Island off Los Angeles. The close-ups were later filmed in a tank filled with water and plastic sea-weed.
© Derek Winnert 2016 Classic Movie Review 3920
Check out more reviews on http://derekwinnert.com