The Mask of Satan [La maschera del demonio] [Black Sunday] **** (1960, Barbara Steele, John Richardson, Andrea Checchi) – Classic Movie Review 3875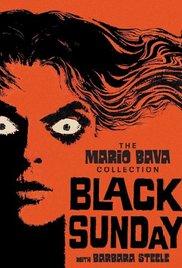 'Once every 100 years the undead of hell terrorise the world in an orgy of stark horror.' Director Mario Bava's powerful 1960 movie exercise in Gothic horror is haunting and stylishly atmospheric. It stars British-born queen of the shivers Barbara Steele in a dual role as an innocent princess, Asa Vajda, and an evil, beautiful witch, Katia Vajda, who is put to death but rises up from the dead for revenge.
The vengeful witch and her fiendish servant begin a bloody plot to possess the body of the witch's beautiful look-alike descendant Asa and only the girl's brother Prince Constantine Vajda (Enrico Olivieri) and handsome doctor Dr Andre Gorobec (John Richardson) can stop her.
In the original Italian language version Princess Asa and Igor Javutich (Arturo Dominici) are brother and sister, implying an incestuous relationship that is not part of the English language versions.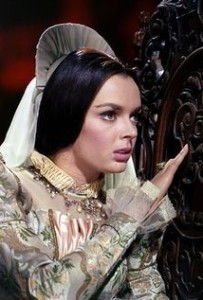 Made in Rome and released in 1960, Bava's film was banned in Britain in 1961 by the BBFC because of its powerful images of cruelty and sexual suggestiveness, though it is really no more horrific or sexy than the average Hammer Horror film. It was passed seven years later with cuts as Revenge of the Vampire, with the original English language dubbing recorded in Italy and the original Italian score by Roberto Nicolosi.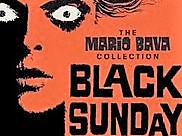 A major horror classic in its own right, and now hailed as one of the greatest horror masterpieces of Italian film, this fascinating item is also extremely influential. It is credited with starting a new vogue for horror movies in the Sixties in Italy, where production then switched from musclemen epics, an important influence that still continued into the Nineties.
The original La maschera del demonio runs 87 minutes but the US version, released as Black Sunday in a double bill with Roger Corman's The Little Shop of Horrors (1960) by American International Pictures, runs 84 minutes. It has cuts, more dramatic dubbing recorded in the US and a new score by Les Baxter.
There is also The Mask of Satan complete European Version of the film featuring the original English language dubbing recorded in Italy and the original Italian score by Roberto Nicolosi. And La Maschera del Demonio (not the original Italian version and at 85 minutes), using the original English language dubbing recorded in Italy and a mix of both scores. A fifth version is 16mm U.S. television syndication version with further edits to the cut Black Sunday version.
The screenplay by Mario Bava, Ennio De Concini and Mario Serandrei is based on the short story The Viy by Nicolai Gogol. Steele did not see this screenplay in advance and was only given pages daily. She says that because of her inexperience and her inability to understand Italian, she found working with Bava difficult, sometimes refusing to come onto the set because she did not like her wig or concerned that her cleavage would be shown.
Tim Burton said it is his favourite horror film.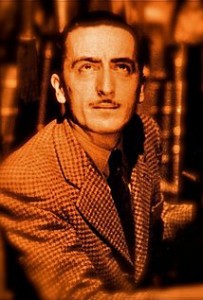 It is Bava's first credited feature as a director. He was was born on 31 July 1914 and died on 27 age 65. Bava enjoyed a lavish six weeks' shooting, beginning 28 March 1960, whereas a typical Italian production then took three or four weeks.
Barbara Steele was born on 29 December 1937 in Birkenhead, Cheshire.
http://derekwinnert.com/the-little-shop-of-horrors-1960-jonathan-haze-jackie-joseph-mel-welles-dick-miller-classic-movie-review-3870/
© Derek Winnert 2016 Classic Movie Review 3875
Check out more reviews on: derekwinnert.com