The Man Who Knew Too Little ** (1997, Bill Murray, Joanne Whalley, Peter Gallagher, Alfred Molina, Richard Wilson, John Standing, Geraldine James) – Classic Movie Review 6681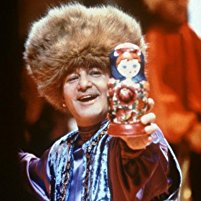 Director John Amiel's silly, lowbrow 1997 Swinging Sixties-style screwball comedy is enlivened and sharpened a little by Bill Murray's typically acerbic comic acting as Wallace Ritchie, an Iowa suburban video store clerk who flies to London to celebrate his rich brother James (Peter Gallagher)'s birthday.
Gallagher is hosting a dinner party for affluent clients and so he packs Murray off for the evening to display his acting talents in an interactive theatre show. Through mistaken identities (Ritchie is confused as a spy), wrongly answered calls and wrangles with rubber-gloved assassins, Murray heads into a world of shadowy cat-and-mouse dealings involving a British defence minister (John Standing), a sexy call girl (Joanne Whalley), a Russian hit man named Boris 'The Butcher' Blavasky (Alfred Molina) a Nazi torturer called Dr Ludmilla Kropotkin (Geraldine James), stupid cops and James Bond-style intrigue. Murray ends up having to try to stop a Hitchcock-style plot to assassinate international leaders at a banquet.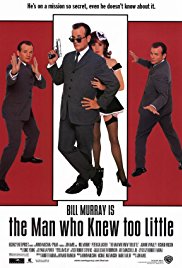 Good natured, old-fashioned (even if it may be supposed to be post-modern!) and sometimes expert and on-target it may be, but it is also awfully, awfully daft, thanks to the clumsy screenplay by Howard Franklin and Robert Farrar, based on the novel Watch That Man by Robert Farrar.
Murray just about keeps it going but sometimes it seems like a weak Morecambe and Wise film, except without Morecambe and Wise. Somehow you expect something sharper, wittier and more sophisticated from Amiel and Murray. It is not bad, but good would be better.
It is filmed entirely on location in London by cinematographer Robert M Stevens.
The title is no doubt a reference to Hitchcock's two films with the title The Man Who Knew Too Much (1933) and The Man Who Knew Too Much (1956).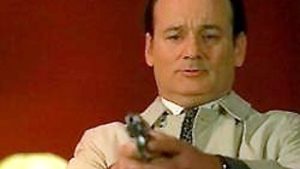 The Man Who Knew Too Little runs 94 minutes, is made by Polar, Regency and Taurus, is released by Warner Bros, is written by Howard Franklin and Robert Farrar, shot by Robert M Stevens, produced by Arnon Milchan, Michael Nathanson and Mark Tarlov, scored by Christopher Young and designed by Jim Clay.
Also in the cast are Richard Wilson, John Thompson, Anna Chancellor, Nicholas Woodeson, Cliff Parisi, Simon Chandler, Janet Henfrey, Terry O'Neill, Isabel Hernandez, Donald Pickering, Victoria Barrett, Terence Harvey, Cate Fowler, Richard Dixon, Sarah Crowden, Barnaby Kay, Dexter Fletcher and Sheila Reid.
© Derek Winnert 2018 Classic Movie Review 6681
Check out more reviews on http://derekwinnert.com