The Man They Could Not Hang ***½ (1939, Boris Karloff, Lorna Gray, Robert Wilcox) – Classic Movie Review 5630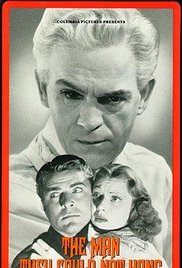 Director Nick Grinde's 1939 horror movie finds Boris Karloff playing a crazed scientist again, this time Dr Henryk Savaard, who is accused of and executed for the murder of a student helping him in an experiment in cryonics to bring the dead back to life that goes wrong when it is interrupted by the authorities.
But, after the hanging, his assistant claims his body and uses his technique on it and he is resurrected and spends the rest of the movie wreaking revenge on the people who condemned him – the judge, the jury and the district attorney.
One of several hanged man movies from Karloff, it is familiar but reasonably enjoyable stuff with enough chills for its time. It is slightly held back by Karl Brown's over-talky screenplay, some weak, overstated support performances and a fairly poor production with some feeble special effects.
But a white-wigged Karloff is on commanding form, and the idea of mixing the Frankenstein and Ten Little Indians themes produces an intriguing yarn, which is based on a story by George Wallace Sayr and Leslie T White.
It co-stars Lorna Gray as Janet Savaard, Robert Wilcox as 'Scoop' Foley, Roger Pryor as District Attorney Drake, and Don Beddoe as Police Lieutenant Shane.
Also in the cast are Byron Foulger, Ann Doran, Joe De Stefani, Charles Trowbridge, Dick Curtis, James Craig, John Tyrrell, George Anderson, Harlan Briggs, Stanley Brown, Flo Campbell, John Dilson, Bill Lally, Ian Maclaren, Charles E Miller, Walter Sande and Cyril Thornton.
It runs 70 minutes, is released by Columbia Pictures, is shot in black and white by Benjamin H Kline, is produced by Wallace MacDonald and scored by Morris Stoloff.
© Derek Winnert 2017 Classic Movie Review 5630 
Check out more reviews on http://derekwinnert.com