The Magnificent Seven ** (2016, Denzel Washington, Chris Pratt, Ethan Hawke, Vincent D'Onofrio, Peter Sarsgaard, Haley Bennett) – Movie Review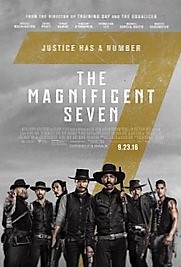 Denzel Washington and Vincent D'Onofrio give outstandingly strong performances in director Antoine Fuqua's sturdy and sometimes impressive remake of the classic 1960 Western, The Magnificent Seven.
However, Peter Sarsgaard is a lot less convincing in a smirking, twitchy, mumbling performance as the villain, deadly industrialist Bartholomew Bogue, whose murderous gang keeps the the town of Rose Creek under their grim and greedy control. When you remember how good Eli Wallach was in this role, or think how good Christopher Walken or Donald Sutherland would have been, you want to weep. Sarsgaard is normally an excellent actor but he is miscast and misdirected.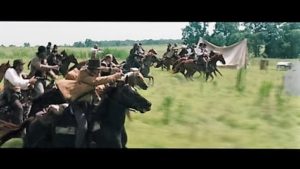 As everybody who knows the 1960 The Magnificent Seven will expect, the desperate townspeople employ protection from seven misfit mercenaries – Sam Chisolm (Denzel Washington), Josh Farraday (Chris Pratt), Goodnight Robicheaux (Ethan Hawke), Jack Horne (Vincent D'Onofrio), Billy Rocks (Byung-Hun Lee), Vasquez (Manuel Garcia-Rulfo), and Red Harvest (Martin Sensmeier). The Seven are very carefully ethnically balanced.
What people won't expect is that it is a woman, Emma Cullen (Haley Bennett), who talks a reluctant Chisolm into riding to Rose Creek's help, with a personal agenda of avenging the cold blood death of her husband Matthew (Matt Bomer), at the start of the movie. Of course, as it is 2016, Mrs Cullen is not going to be a passenger in this story, and, as expected, Emma gets her gun firing in the finale, improbable as this seems here.
This is the first step in turning The Magnificent Seven into a revenge Western, which works OK, but is not the kosher The Magnificent Seven. Yes, revenge is modern and the motives of the guys back in 1960 are virtuously old fashioned. Times have changed, and once again not for the better. Movies too probably.
A fully engaged seeming Fuqua gets on with the job briskly and efficiently, providing good Western entertainment for two thirds of the film's length, but failing to provide no good reason for this remake. The script's so-called 'modern vision' is just an attempt to spruce up something that doesn't need a new lick paint. The tweaking of the Seven's motives and the changing of the locations and characters simply spoil the purity of the story.
The good-looking film is a fairly easy ride, that is till the expected and long-awaited violent showdown that everybody knows is coming, which is messed up by the villains bringing in an all-slaughtering Gatling gun, that just takes all the tension and interest out of the finale. With that gun, the Seven would be The Magnificent None in two minutes flat.
That's followed by the expected and long-awaited violent climatic clash between the showdown between Washington and Sarsgaard that somehow just fizzles out, like the film. And Chris Pratt, Ethan Hawke, Byung-Hun Lee, Manuel Garcia-Rulfo and Martin Sensmeier don't really have enough quality screen time to shine like they could.
There are one or two wry lines and amusing moments along the way, with Pratt doing his best to be humorous when allowed, but The Magnificent Seven isn't really a barrel of laughs or fun. Yet there are some very impressive moments of action and it still is a sturdy Western remake for fans of the genre.
Simon Franglen and James Horner's score is OK, quite good actually, but no one would envy their task in competing with one of cinema's most famous scores. Mauro Fiore's cinematography and Derek R Hill's production designs are impeccable. It looks expensive and it was – $90 million. It has taken $46 million at the US box office. They keep making Westerns when the crowds won't come, so they need to make them cheap.
Washington and Hawke worked with Fuqua on Training Day.
© Derek Winnert 2015 Movie Review
Check out more reviews on http://derekwinnert.com