The Lusty Men **** (1952, Susan Hayward, Robert Mitchum, Arthur Kennedy, Arthur Hunnicutt) – Classic Movie Review 3403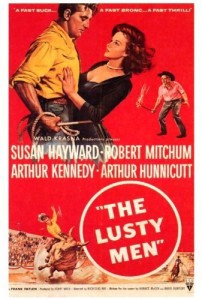 Robert Mitchum stars as old-hand rodeo rider Jeff McCloud in director Nicholas Ray's flavoursome, rather special, character- and atmosphere-driven 1952 Western drama. It is one of Ray's lesser-known but best movies.
Mitchum, Arthur Kennedy, Arthur Hunnicutt, Frank Faylen and Walter Coy head the list of the lusty men. Susan Hayward is the main lusty woman. With an iconic cast and plenty of rodeo atmosphere and action, it's a fine cult film from a favourite cult director.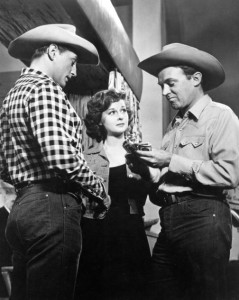 In the screenplay by Horace McCoy and David Dortort from the story by Claude Stanush, rodeo champion McCloud is injured and retired, and returns to his home town, where he reluctantly agrees to mentor and train a young buck novice rodeo contestant, ranch hand Wes Merritt (Arthur Kennedy), in the rodeo ways.
But Merritt's wife Louise (Susan Hayward) just wants her husband to stay safe at home and not be roaming out and about in the wide-open spaces of the rodeo-riding arena, scared of the dangers of the risky sport. However, the threesome hit the road.
The Lusty Men is carefully played by its appealing cast, expertly shot in outstanding, beautiful black and white widescreen photography by Lee Garmes, and directed rigorously by Ray with a keen eye to the authentic cowboy and rodeo way of life.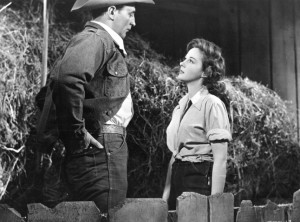 Robert Parrish took over the direction for several days when Ray fell ill.
It helps that there are lots of legendary character actors names among the support cast. Also in the cast are Carol Nugent, Maria Hart, Lorna Thayer, Sheb Wooley, Burt Mustin, Karen King, Jimmie Dodd, Eleanor Todd, Riley Hill, Bob Bray, Marshall Reed, Paul E Burns, Chuck Roberson, Lane Bradford, Chill Williams, Hazel Boyne, Barbara Blaine, Sam Flint, Emmett Lynn, Denver Pyle, Glenn Strange, Dan White, Lane Chandler, Ralph Volkie, George Sherwood and Dennis Moore.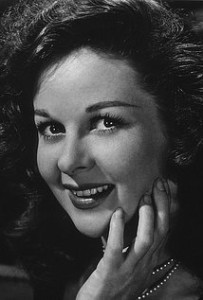 After four previous Oscar nominations, Susan Hayward (1917-75) won Best Actress for I Want to Live! (1958). She also won the 1956 Cannes Film Festival Best Actress award for I'll Cry Tomorrow (1955).
© Derek Winnert 2016 Classic Movie Review 3403
Link to Derek Winnert's home page for more reviews: http://derekwinnert.com/