The Lovers *** (1973, Richard Beckinsale, Paula Wilcox, Joan Scott, Susan Littler) – Classic Movie Review 4774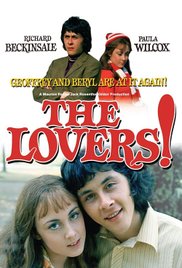 Director Herbert Wise's pleasing 1973 British feature film version of the popular and much-loved TV comedy series created by Jack Rosenthal in 1970 (running till 1971) reunites the delightful stars Richard Beckinsale and Paula Wilcox as the mismatched courting couple Geoffrey Scrimshaw and Beryl Battersby. Basically, he wants sex and she doesn't.
Geoffrey: 'But everyone else does it. They're at it like knives!'
Beryl: 'N-O spells NO!… Poor Geoffrey bobbles bonbon!'
The movie turns out to be a surprisingly successful treatment of the work because of Rosenthal's lovely screenplay, the charming performances, the relatively high production values, the decision to treat it as a proper film rather than just an extended TV episode, and an amusing plot that sees our heroes living with parents in Manchester and finding that the age of Aquarius is passing them by.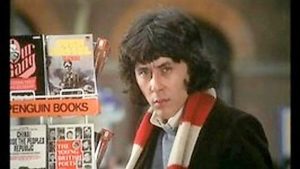 Playing like a comedy version of Coronation Street, it benefits enormously from the perky playing by the deservedly popular stars, and also by the host of good supporting actors. Joan Scott also repeats her TV role, as Beryl's mum.
Also in the cast are Susan Littler as Sandra, Rosalind Ayres as Veronica, John Comer (as Geoffrey's dad), Stella Moray (as Geoffrey's Mum), Anthony Naylor as Neville, Nikolas Simmonds and Robert Huke.
The film is always on Geoffrey's side. Wilcox is battling playing a none too sympathetic character. Here's where the couple meet. Scrimshaw: 'Hi, I'm Geoffrey. I don't happen to be attached.' Beryl: 'Hi, I'm Beryl. I don't happen to be surprised.' So it's a tribute to Wilcox that she keeps personally sympathetic. The young Beckinsale effortlessly oozes charisma.
The series ran for 13 episodes over one year between 1970 and 1971, made by Granada Television for the ITV network. It was run again on Channel 4 in 1996.
Speaking of Coronation Street, Beckinsale made his TV debut in the soap in 1969 as PC Wilcox, a police officer who arrests veteran character Ena Sharples.
Beckinsale (father of actress Kate) died of a heart attack at only 31 in 1979. He also filmed one of his other sitcom hits, Porridge, but died before he could film the other, Rising Damp.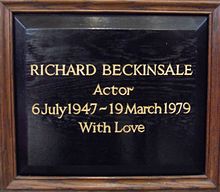 RIP Richard Beckinsale (6 July 1947 – 19 March 1979) with love.
© Derek Winnert 2016 Classic Movie Review 4774
Check out more reviews on http://derekwinnert.com