The Love Punch *** (2013, Pierce Brosnan, Emma Thompson, Timothy Spall, Celia Imrie, Tuppence Middleton) – Movie Review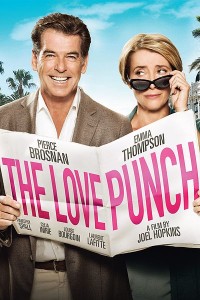 A reasonably likeable, totally watchable 2013 Britcom sitcom is on the menu as Emma Thompson stars as a brisk and capable middle-class English woman called Kate, who is happily divorced from her cheating lawyer ex-husband Richard (Pierce Brosnan).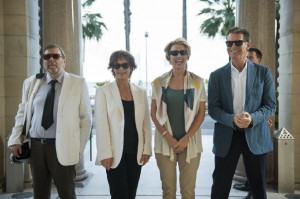 But Brosnan loses his all when his company is taken over by a French firm and stripped of all its assets, and he turns up chez Thompson, begging for help. His retirement money has gone down the swanny. She is a sucker for his pathetic look and sob story, and after a bit of bickering the two link up and nip over to Paris to get old Brosnan's money back from the evil French, with the help of their pals Penelope ('Pen') and Jerry (Celia Imrie and Timothy Spall).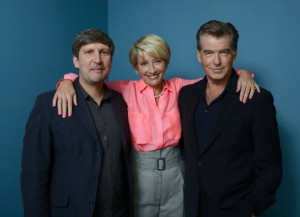 It is a dream cast, though they are way over-qualified for this kind of caper. But like the true old pros they are, they put lots of wellie behind it, never for one moment suggesting they are too posh for such humble surroundings as this movie.
That helps, and so do some funny lines, and a general air of warmth and good spirits. It would be hard to take totally against The Love Punch, even though it is willfully old-fashioned and totally out of its time. The Brit old age pensioners' Reservoir Dogs-style action sequence at the end and the endless prostate jokes are the height of naff, but somehow with Thompson, Brosnan, Imrie and Spall doing it, all is forgiven.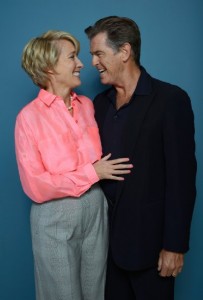 Thompson and Brosnan are good together, sharing strong screen chemistry and lots of audience appeal. They should do another movie together. Imrie and Spall are effortlessly amusing of course.
Tuppence Middleton adds a bit of feisty youth appeal as the exes' daughter Sophie, though she is soon sidelined and pretty much forgotten.
Joel Hopkins made the much better Last Chance Harvey with Thompson back in 2008.
http://derekwinnert.com/a-long-way-down-film-review/
© Derek Winnert 2014 Movie Review
Check out more reviews on http://derekwinnert.com