The Love Parade **** (1929, Maurice Chevalier, Jeanette MacDonald, Lupino Lane) – Classic Movie Review 5768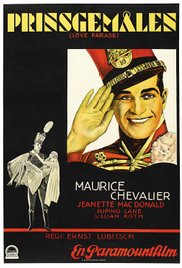 Director Ernst Lubitsch's superlative 1929 operetta stars the new musicals screen team of Maurice Chevalier and Jeanette MacDonald and is filmed with the inspired Lubitsch touch at its finest.
It is 1929 and the dawn of the talkies but early sound is only a slight hindrance to the movie. Lubitsch's triumph in his first sound film is to integrate the music and story so that there are no breaks for production numbers. His approach is exactly the opposite to that of Busby Berkeley, who in his films kept the story realistic and the songs fantastic.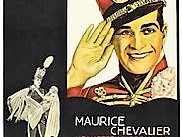 Lubitsch encourages sparkling performances from the young Chevalier and MacDonald in her film début. MacDonald plays the mythical Queen Louise of Sylvania, who marries the rougish diplomat/ courtier Count Alfred Renard (Chevalier) on hearing of his bedroom skills. She is bossy, he is unsatisfied as Queen's Consort, he teaches her a few things, and they both live happily ever after.
There is good star character actor support from Britain's Lupino Lane as Jacques, Lillian Roth from Broadway as Lulu, and Eugene Palette as the War Minister, Edgar Norton as the Master of Ceremonies, Lionel Belmore as the Prime Minister, E H Calvert as the Ambassador, Albert Roccard and Ben Turpin.
Also in the cast are Virginia Bruce, June Bupp, Rosalind Charles, André Cheron, Yola d'Avril, Albert De Winton, Winter Hall, Jean Harlow, Perry Ivins, Russ Powell, Albert Roccardi, Carl Stockdale, Anton Vaverka, William von Hardenburg, Josephine Hall and Helene Friend.
The Victor Schertzinger score includes 'Dream Lover'.
After nearly a decade in stage shows, MacDonald was screen tested by Paramount In 1928 but rejected her. However, a year later Lubitsch saw and liked her test and cast her.
MacDonald is fondly remembered for her musical films of the 1930s with Chevalier – also Love Me Tonight (1932), The Merry Widow and One Hour With You.
© Derek Winnert 2017 Classic Movie Review 5768
Check out more reviews on http://derekwinnert.com