The Lost World *** (1960, Claude Rains, Michael Rennie, David Hedison, Richard Haydn, Fernando Lamas, Jill St John) – Classic Movie Review 5122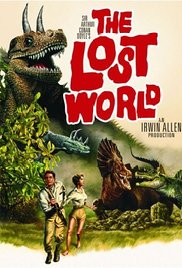 Director Irwin Allen's 1960 US adventure movie is the second film version of the famous Arthur Conan Doyle novel about team of scientists and adventurer explorers heading off to the South American Amazonian jungle in search of prehistoric creatures.
Claude Rains stars the indomitable scientist explorer Professor Challenger, who leads the gang, Michael Rennie plays the renowned playboy hunter adventurer Sir John Roxton, Jill St John plays his girlfriend Jennifer Holmes, David Hedison plays Ed Malone, the handsome newspaper reporter Jennifer (daughter of Malone's publisher) falls in love with, Richard Haydn plays Professor Summerlee and Fernando Lamas plays Manuel Gomez, the expedition's pilot.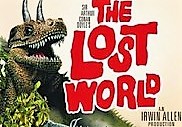 Though not a great movie, it is still simple, innocent, sweet and charming, and quite a lot of fun even if, alas, the creatures hugely disappoint. The monsters are reptiles photographed to look enormous, in disappointing contrast to Willis O'Brien's excellent beasts in the 1925 original silent version of The Lost World. Budget restrictions imposed by troubled studio Twentieth-Century Fox stopped Allen from using stop-motion dinosaurs and forced him to use lizards, mainly monitor lizards, instead, attaching plastic horns and spikes to them to make them resemble dinosaurs.
Allen's sometimes sluggish direction and Allen's and Charles Bennett's sometimes soppy, sometimes talky screenplay are more minuses. The pluses are the solid performances from a decent cast, Winton C Hoch's beautiful widescreen CinemaScope cinematography, the sterling art direction by Duncan Cramer and Walter M Simonds, and the striking score by Bert Shefter and Paul Sawtell. The relatively short running time of 97 minutes is also on its side.
Also in the cast are Ray Stricklyn, Vittina Marcus, Jay Novello, Ian Wolfe, Harold Miller and Stuart Holmes.
Fox Home Video has released the restored film on DVD with CinemaScope images and a new stereo soundtrack.
Timothy Bond directs a 1993 Canadian third film version of The Lost World, with David Warner, John Rhys-Davies and Eric McCormack.
© Derek Winnert 2017 Classic Movie Review 5122
Check out more reviews on http://derekwinnert.com