The Longest Yard [The Mean Machine] ***** (1974, Burt Reynolds, Eddie Albert, Ed Lauter, Michael Conrad) – Classic Movie Review 5316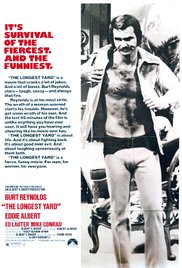 Director Robert Aldrich's much-loved 1974 movie provided Burt Reynolds with his biggest crowd-pleasing success as Paul Crewe, the American football former pro quarterback, now serving his time as a convict in jail. It is also one of Aldrich's best and most popular movies, with the director clearly in his element.
Crewe leads another of The Dirty Dozen director Aldrich's dirty dozens – a team of criminals, murderers and other undesirables – into battle against an American football squad comprised of their own guards.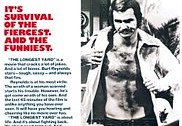 The Longest Yard, re-titled The Mean Machine in the UK, is a ferocious and funny comedy action movie, wittily and cleverly written by Tracy Keenan Wynn (son of actor Keenan Wynn) from a story by the film's producer Albert S Ruddy.
It is directed for maximum excitement by Aldrich, and scores with unstoppable turns from Reynolds and Eddie Albert as the horrible, sadistic prison Warden Hazen, who gets Crewe to assemble a team of inmates to take on the guards in exchange for an early release.
It is made by Long Road, released by Paramount, shot by Joseph F Biroc, scored by Frank DeVol and set designed by James S Vance.
Also in the cast are Ed Lauter, Michael Conrad, Jim Hampton, Harry Caesar, John Steadman, Charles Tyner, Mike Henry, Bernadette Peters, Anitra Ford and Richard Kiel.
It was reworked as a vehicle for Vinnie Jones in 2001, Mean Machine.
© Derek Winnert 2017 Classic Movie Review 5316
Check out more reviews on http://derekwinnert.com