The Long Ships ** (1964, Richard Widmark, Sidney Poitier, Russ Tamblyn, Rosanna Schiaffino, Oscar Homolka ) – Classic Movie Review 4434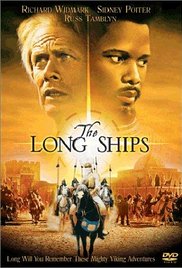 Richard Widmark is absurdly cast as Rolfe, a Viking, and Sidney Poitier not much better as Prince Aly Mansuh, leader of the Moors, who come to blows over the Golden Bell in director Jack Cardiff's amusingly daft, noisy and boisterous 1964 international adventure epic.
Cardiff's costly movie ($3 million) didn't exactly ring loud bells at the international box office. But Berkely Mather and Beverley Cross's screenplay (based on a novel by Frans Bengtsson) tries hard to be intelligent, literate and historical. And the movie always looks good, as it should, since it is directed by an important cinematographer and shot by another important cinematographer, Christopher Challis.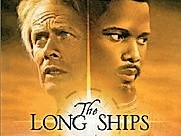 Among the eccentric cast, Russ Tamblyn leaps about athletically as Widmark's sidekick Orm, Rosanna Schiaffino plays Aly Mansuh's wife Aminah, and Oscar Homolka gets drunk as Krok while building long ships.
If it were not so violent it would suit a family audience quite well. However it has a UK:PG TV rating and a UK:PG video rating, cut by 13 seconds (1988).
Also in the cast is a bunch of British worthy actors, led by Colin Blakely, Lionel Jeffries, Clifford Evans, Gordon Jackson, Henry Oscar and David Lodge. Further down the cast are Beba Loncar, Paul Stassino and Jeanne Moody.
© Derek Winnert 2016 Classic Movie Review 4434
Check out more reviews on http://derekwinnert.com