The Long Arm [The Third Key] **** (1956, Jack Hawkins, John Stratton, Dorothy Alison) – Classic Movie Review 5151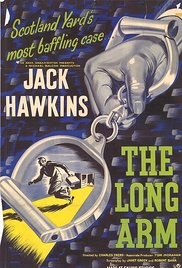 Director Charles Frend's 1956 British Ealing Studios thriller stars Jack Hawkins, an always welcome and more than capable player, at least when he was properly cast, unlike his Pharaoh Khufu in the previous year's Land of the Pharaohs (1955) or his Quintus Arrius in Ben-Hur (1959). He made a good copper, as in Gideon of Scotland Yard (1958), but was also good on the other side of the law, as his heist mastermind Colonel Norman Hyde in The League of Gentlemen (1960).
This time, here, he is ideally cast in one of his quintessential roles as Scotland Yard detective superintendent Tom Halliday. Along with his new detective sergeant Ward (John Stratton), Halliday step by step tracks down the villains who are committing such robberies as a London Covent Garden safe job.
Director Frend involves us in a pseudo documentary way in the meticulous way the police went about an investigation that was rightly a source of inspiration and fascination to Fifties audiences.
Also in the cast are Dorothy Alison as Mary Halliday, Michael Brooke as Tony Halliday, Sam Kydd, Glyn Houston, Peter Burton, Ralph Truman, Geoffrey Keen, Sydney Tafler, Meredith Edwards, Ursula Howells, Ralph Truman, Newton Blick, Maureen Delany, Richard Leech, George Rose, Ian Bannen, Alec McCowen, Vincent Ball, Nicholas Parsons, Stratford Johns, Arthur Rigby and John Warwick.
It is written by Robert Barr (story and screenplay), Janet Green (screenplay),  and Dorothy Christie and Campbell Christie (additional dialogue).
© Derek Winnert 2017 Classic Movie Review 5151
Check out more reviews on http://derekwinnert.com